A murdered schoolboy whose remains were discovered in Rogate, West Sussex, in the 1980s was seen at the Devil's Punch Bowl in Hindhead the day after he vanished according to new claims made in a BBC podcast series.
In an interview for the new nine-part Vishal podcast on BBC Sounds, a retired firefighter claims he saw schoolboy Vishal Mehrotra, aged eight, with a mystery man at the National Trust-managed beauty spot near Haslemere the day after he vanished in 1981.
Vishal was abducted from Putney in west London on July 29, 1981, as he walked home from shops on the day of the royal wedding of Prince Charles and Lady Diana Spencer.
Just over half a year later, the child's partial remains were discovered by two men shooting pigeons on February 25, 1982, in woodland at Alder Copse, just south of the A272 at Rogate.
The killers were never identified and no one has ever been charged with the murder. But last week, it was revealed Sussex Police are re-examining the case.
It comes after retired firefighter David Balfour told BBC investigative reporter Colin Campbell he saw a boy matching Vishal's description with a man at the Devil's Punch Bowl on July 30, 1981, 40 miles from where the child was abducted a day earlier and just 11 miles from Rogate.
Mr Balfour told the BBC the mystery man he saw with the boy was "dressed in khaki, which at that day and age was so unusual".
This description matched two further sightings of a man dressed in khaki seen with an Asian boy on the day of the royal wedding reported to police at the time, all within 11 miles of the woods where Vishal's remains were later found.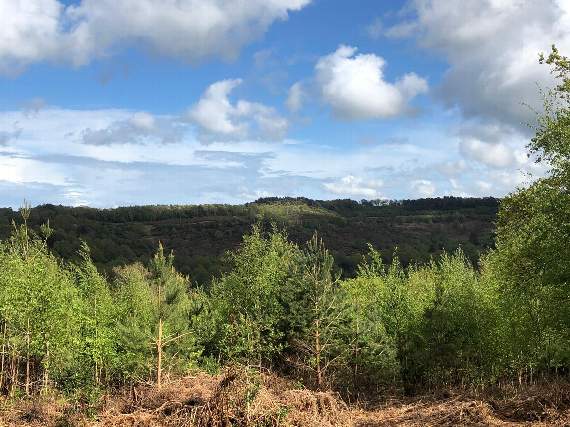 The Devil's Punch Bowl near Hindhead, where eight year old Vishal Mehrotra was reportedly seen the day after his abduction in July 1981
Mr Balfour said he had reported the sighting to Sussex Police three years ago, and the force had contacted him asking for further information. But after he was unable to do so, detectives ruled his possible sighting provided no viable lines of inquiry.
However, according to the BBC, Sussex Police last week told Vishal's father Vishambar Mehrotra that detectives had been given "clear direction" to "advance" the case.
Mr Mehrotra had previously accused Sussex Police of not fully investigating Vishal's case – a claim denied by the force, which had previously said the case had been the subject of "extensive and thorough police inquiries", and he remains sceptical of the investigation.
After he was told by senior officers on Wednesday last week that a number of lines of inquiry would be re-examined, Vishal's father told the BBC: "Well, I am very pleased but I am also sceptical because I am not so sure how much and when they are going to actually investigate."
Police are also reported by the BBC to have apologised to Mr Mehrotra for failing to spot a potential link in the 1990s between a paedophile and Vishal's murder when reviewing an unconnected case.
According to the BBC, four years ago Sussex Police discovered it had missed that convicted child sex offender, Nicholas Douglass, had written a document titled 'Vishal', which he finished a year after Vishal's remains were found.
The BBC says it tracked down Douglass in 2020 and asked him why he named the document 'Vishal', to which the paedophile responded: "It's the first [name] that came into my head because it had been in the press. [There was] massive publicity and at the time.
"It was the first Asian name I could think of. That's the honest truth."