Police have arrested a 15-year-old girl on suspicion of occasioning actual bodily harm after a serious assault in Victoria Garden, Farnham.
It comes after a teenage girl, reportedly also 15 years old, was beaten in front of dozens of onlookers in the town centre community garden at around 4pm last Saturday afternoon.
Police confirmed on Thursday that a 15-year-old girl has been arrested in connection with the assault, and has been released on conditional bail.
In a statement, Waverley neighbourhood sergeant Luke Flint also confirmed the incident was reported to police – contrary to an initial statement by a force spokesman.
The victim of the serious assault was also visited by officers, but not until two days after the attack.
Sgt Flint said: "The incident was reported to us and officers have since visited the victim and taken a statement. An investigation was launched and a 15-year-old girl was arrested for assault occasioning actual bodily harm. She has been released on conditional bail."
What is actual bodily harm?
According to the Crown Prosecution Service, the offence of occasioning actual bodily harm is committed when a person "intentionally or recklessly assaults another". It must be proved that the assault "occasioned" or caused the bodily harm.
Bodily harm is defined as "any hurt calculated to interfere with the health or comfort of the victim". The CPS guidelines continue that "such hurt need not be permanent, but must be more than transient and trifling".
Sentences for occasioning actual bodily harm can range from a fine up to five years' imprisonment.
Children and young people can receive custodial sentences but they will be imposed only in the most serious cases, and can be spent in secure children's homes, secure training centres and young offender institutions.
A still image of the one-on-one attack has been widely shared online, and CCTV footage shared with the police shows a group of up to 30 teens watching on – with not one intervening to stop the assault.
The group of teens had reportedly been in Victoria Garden for around an hour before the assault, with reports too of youngsters climbing on the garden shed.
Victoria Garden, located on the former Farnham Swimming Baths opposite Sainsbury's in South Street, has since been closed outside of school hours during the week, with the garden possibly closing this weekend too, subject to discussions between Farnham Town Council and garden trustees.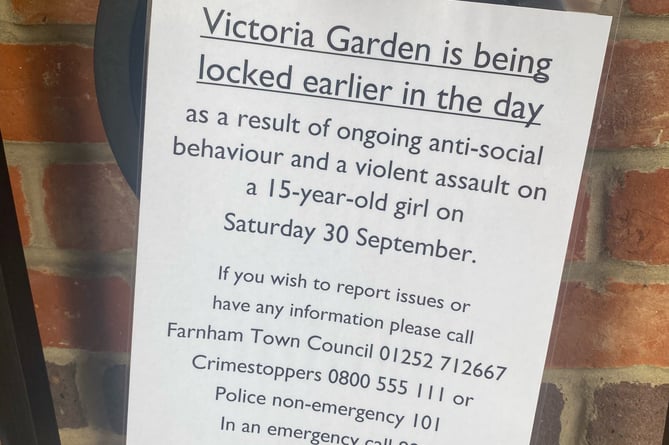 A sign on the entrance to Victoria Garden explains why the garden is currently closed out of school hours
(Herald)
A town council spokesman said the assault was the culmination of a spate of anti-social behaviour at the volunteer-maintained community garden.