Stafford Whelan, 17, who hopes to attain his King's Scout Award this summer, was invited to represent Hampshire Scouts and bear one of six special banners (pictured), each representing one of the new King's six charities, at a special thanksgiving service at Winchester Cathedral on the eve of the coronation on Friday, May 5.
It was a particularly significant occasion and venue since the kings of England were crowned there until the Norman Conquest.
The service, attended by the Lord Lieutenant of Hampshire, Crown Court judiciary, MPs and many other dignitaries, had elements from the actual coronation service of Edward the Confessor and the cathedral was bedecked in medieval banners and bowers of spring flowers.
The other banners were borne by cadets representing the Royal Navy, RAF, Army, the police and the ambulance service.
Stafford, who started as a Beaver with 1st Sheet St Mary's – and also benefited from the guidance of the Petersfield Post's late Jon Walker, who was a Scout leader there – says it was a great honour to have taken part in such a historic and moving service.
This was followed by an unforgettable invitation to Buckingham Palace two weeks later on Friday, May 19 to celebrate Stafford's achieving his Duke of Edinburgh Gold Award.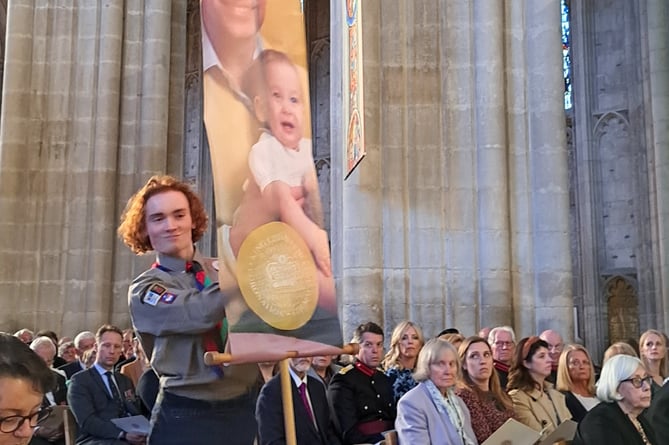 Stafford was a banner-holder at the Winchester Cathedral coronation service
The train from Petersfield was packed with youngsters on their way to the palace where Prince Edward, the new Duke of Edinburgh, gave a speech congratulating the many other young people whose ages ranged from 17 to 21, this being the first such event after several years because of Covid.
Other speakers included an inspirational young man who had achieved his award several years ago despite suffering from cancer, John Snow, the ex-BBC reporter, and Jill Scott MBE, the English women's football team midfielder who won the UEFA European Championship in 2022.
"It was certainly an amazing day to remember always," said Stafford, who got to speak with the Duke of Edinburgh.
"I am very grateful to our amazing course leader, my five team mates and all those who supported us or gave us opportunities to help us achieve our goals."
Completing the DoFE Gold is a life-changing experience which pushes people out of their comfort zone and equips young people to develop personal skills, build teamwork and make a difference to their communities.