BBC Countryfile featured the Alice Holt Research Station's new cutting-edge Holt Laboratory near Farnham in last Sunday's programme.
Not normally in the public eye, the Forest Research scientists opened the doors on their state-of-the-art laboratory facilities and world-leading expertise on forest science.
Providing evidence and advice to policymakers and woodland managers, this gem in the heart of the local woodland is at the front line of research into climate change and pests and diseases.
A two-day extravaganza of filming across the area saw presenter Tom Heap exploring the forest with Caroline Gorton from Forest Research's tree health diagnostic and advisory service to take bark samples and use lateral flow test kits to detect for the presence of phytophthora root rot, a soil-based disease that can kill a wide range of plants.
Retreating from the torrential rain into the mobile laboratory, Forest Research's latest acquisition to provide a rapid response to outbreaks, Caroline demonstrated how to process samples in the field and even use a Granny Smith apple to "bait" the organism.
Tom was suitably impressed with what he coined a "green ambulance" – and it wasn't just that it provided welcome shelter from the persistent downpours!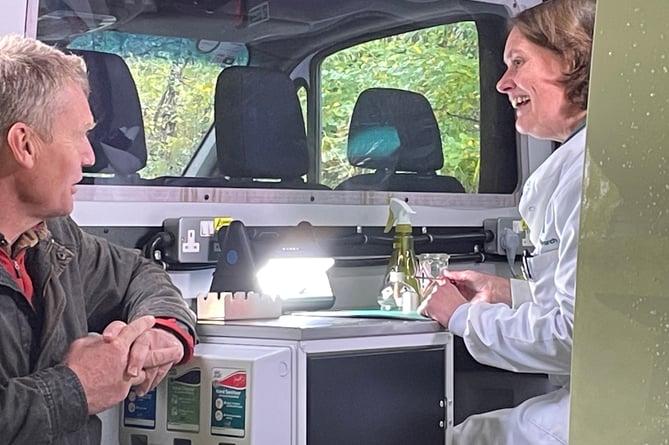 Countryfile presenter Tom Heap and Caroline Gorton from Forest Research in the mobile laboratory
(Charlotte Magowan/ Forest Research)
She also explained how vigilant members of the public could report unhealthy trees through Forest Research's Treealert system.
Returning to the world-class Holt Laboratory, Tom saw how the team would process and test the samples.
Max Blake, Forest Research's head of entomology, explained  how beetles of all shapes and sizes could be imported unseen in everyday items and showed the characteristic galleries created by ips typographus beneath the bark of susceptible spruce trees.
There was also an "up close and personal" encounter with one of the infamous beetles under a microscope.
To round off the visit, climate scientist Matt Wilkinson took Tom on a climb up the flux tower at the Straits Inclosure to find out more about how the team monitor flows of carbon into and out of the forest.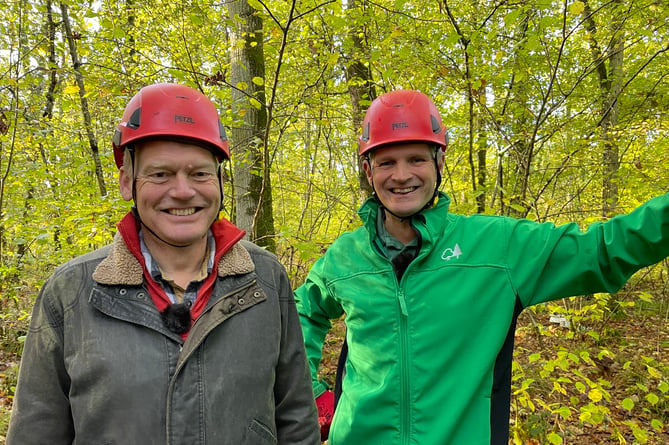 Countryfile presenter Tom Heap with Matt Wilkinson of Forest Research at the flux tower
(Charlotte Magowan/ Forest Research)
He explained how this work informs understanding of how forests both here and around the world are reacting to climate change and how the science can guide our actions.
Charlotte Magowan, acting head of communications at Forest Research, said: "This was an incredible opportunity to show a broader audience just how much work Forest Research is doing to help us combat climate change and the pests and diseases that are affecting forests both here and around the world.
"There are some big challenges for the natural world right now, and Forest Research is playing a vital part in gathering the evidence to inform our understanding so that we can advise and empower others to take positive action.
"It was great to introduce the Countryfile team to the science behind forestry and we hope to inspire more people to get involved in helping to spot unhealthy trees or join our team".
The Countryfile 'Plant Britain Finale' aired on BBC1 at 6.35pm on Sunday, November 20 and can be watched back on BBC iPlayer here.
For more information on tree health, climate change or jobs at Forest Research, see forestresearch.gov.uk