Gail's bakery in Castle Street has vowed to do more to reduce food waste after eight black bin liners full of discarded bread and pastries were spotted outside the shop.
Herald reader Debbie Flowerday took these photos outside Gail's in Farnham earlier this month, saying "there is absolutely no excuse for this. They should know how much they sell each day so there's no waste".
"Why not hand it out at the end of the day where people can give a donation to charity," she added.
A spokesman for Gail's said: "As bakers, there is nothing that saddens us more than seeing good food go to waste. 
"That is why our ambition is to donate our surplus food to local charities every night, from every bakery.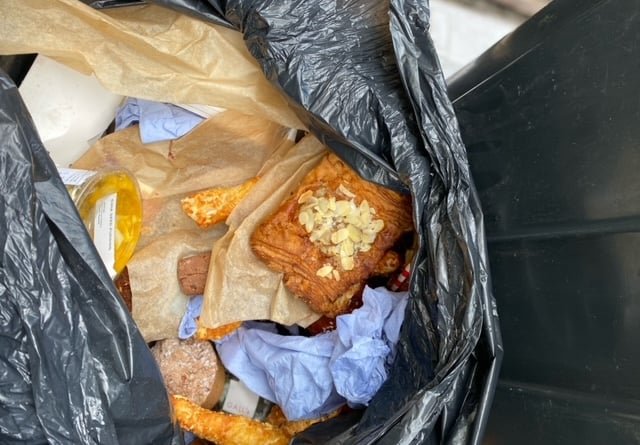 Debbie Flowerday counted eight black bin-liners full of bread and pastries outside of Gail's Bakery in Farnham
(Debbie Flowerday)
"We always try to bake just the right amount every day, but sometimes we have food remaining. On the occasion that we do, we want it to go to those that need it most.
"Farnham has local charities setup to collect surplus food daily. On rare occasions, charities are unable to collect the food. 
"To avoid this in the future, we are working on new processes and partnerships to ensure good food doesn't go to waste."
Farnham Food Bank manager Harriot Lanyon confirmed the food bank has been offered leftover bread to collect at the end of the day from Gail's Bakery in the past "but we didn't accept the offer for various reasons".
"The logistics of organising a volunteer to collect bread late in the day and storing it is not as simple as it sounds," she said. "We also like to give our clients fresh bread we have bought from a supermarket."
Norma Corkish, on behalf of Hale Community Cupboard, also confirmed it has taken leftover bread and pastries from Gail's in the past but is "only taking from the supermarkets at the moment".