Ella Stadler from Farnham will on Sunday be stepping out in the dark blue colours of Oxford University to realise her dream of competing in The Boat Race.
Ella, 23, a former pupil of St Polycarp's and All Hallows schools, will represent Oxford in the 77th Women's Boat Race against Cambridge, on the famous 6.8km championship course along the River Thames from Putney to Mortlake.
Ella represented both Farnham schools in various sports, and also played for Farnham Netball Club during her A-level years. Yet, amazingly, she only turned to rowing while at university.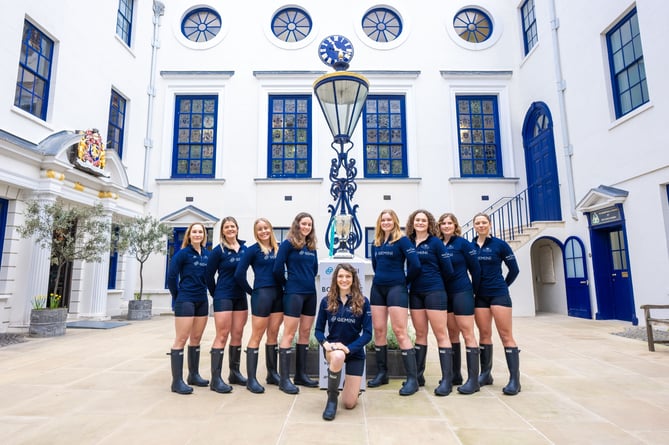 Ella (third from left) and the University of Oxford 2023 women's blue boat crew outside Apothecaries Hall, London at the official crew announcements on March 6
(Benedict Tufnell)
"When I applied to Oxford for undergrad, my dad told me he had a hunch I'd be a good rower, so he put me on a rowing machine to give it a try – and I very reluctantly agreed to go to a taster session in my Freshers Week in 2019. 
"After a very disrupted first two years with flooding and Covid, meaning training was almost solely land-based, I was convinced by my college coach to join the Oxford University Women's Boat Club Development Squad in the summer of my second year of undergrad." 
Ella's third year was consumed by finals and her position as JCR president at Exeter College. But having graduated with a BA in history in the summer of 2022, Ella has remained at Oxford to study for a Masters (M.Phil) in history of science, medicine and technology and so decided to trial for The Boat Race squad.
"So now in my fourth year, I guess I have only really properly learnt to row at Oxford and would probably say I'm a bit hooked…"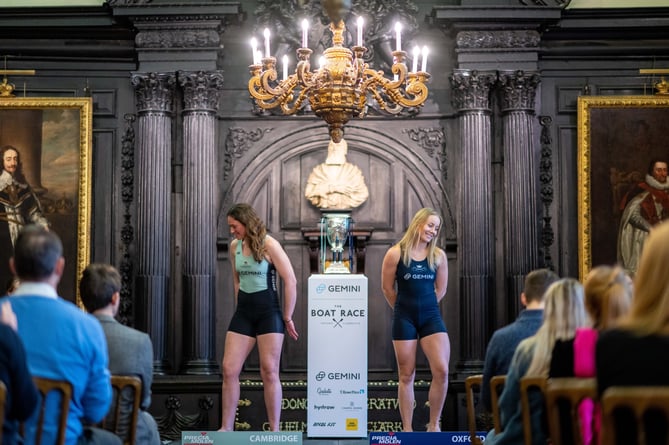 Now in the first year of her Masters course, Ella (right) decided to trial for the university squad and after a lot of hard work was selected for the Boat Race
(Benedict Tufnell)
Ella and her teammates train twice a day, six days a week, while still completing their degrees. So what inspires Ella to keep going when it gets tough?
"The women I'm surrounded by," she said. "There is some incredible talent among this group of women. Their dedication is admirable and keeps me going."
She added: "There's one end goal and that's beating Cambridge. There is one date in our heads and that's March 26. The whole season is about that one day, that one race."
Watch BBC One's live coverage of both the women's (4pm) and men's (5pm) boat race from 3.30pm this Sunday.