Chancellor Jeremy Hunt completed a trio of visits to summer fetes last Saturday as he dropped in at this year's Bourne Show.
Having attended Ash Village Fete in his new constituency and Hale Carnival in his old earlier in the day, the MP arrived in The Bourne to help promote the Royal Surrey Charity's Cancer and Surgical Innovation Centre campaign before enjoyed a tour of the show.
MP Jeremy Hunt at the 2023 Bourne Show
(Jeremy Hunt)
This year's Bourne Show boasted a huge array of stalls alongside all the traditional attractions and a fine array of classic cars.
The results of this year's Bourne Show cups, plates and shields are listed below:
Adult classes Section 1 - Vegetables and Fruit
Morris Cup. To be held for one year by the exhibitor gaining the most points in Section 1 (Vegetables and Fruit). Winner: Ted Meredith
Judges Cup Section 1. Winner: Ted Meredith
Adult classes Section 2 - Flowers
Richards Cup. To be held for one year by the exhibitor gaining the most points in Section 2 (Flowers). Winner: Margot Tringham
Ostrer Rose Bowl. To be held for one year by the exhibitor obtaining first prize in Section 2 (Flowers), Class 26 Hybrid Tea Roses. Winner: Margot Tringham
Ron Watts Memorial Plate. To be held for one year by the exhibitor obtaining first prize in Section 2 (Flowers), Class 34 Delphiniums/Hollyhocks. Winner: Margot Tringham
Judges Cup Section 2. Winner: J. Atkinson
Adult classes Section 3 - Domestic
Bourne Business Cup. To be held for one year by the exhibitor gaining the most points in Section 3 (Domestic). Winner: Jon Allen
Juliet Bowell Award. To be held for one year by the exhibitor gaining the most points in preserves. Section 3 (Domestic). Winner: Hannah Rogers
Judge Cup Section 3. Winner: Izzy Wigmore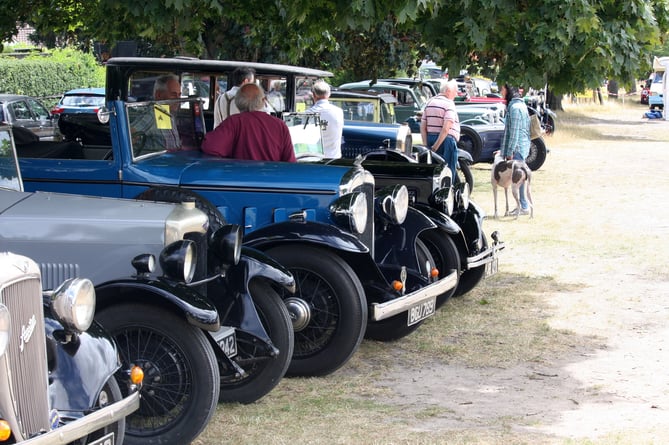 Classic cars lined up at the Bourne Show 2023
(Liz Jones PR)
Adult classes Section 4 – Art and Craft
Peggy Goebel Cup. To be held for one year by the exhibitor gaining the most points in Section 4. Winner: Gill Keighley
Keighley Plate. To be held for one year by the exhibitor obtaining first prize in Section 4, Class 63 – Any other craft work. Winner: Rosie Hirst
Bourne Committee Cup . To be held for one year by the exhibitor obtaining first prize in Section 4, Class 53 – Photograph. Winner: Megan Devergne
Teen Art Cup . To be held for one year by the exhibitor obtaining first prize in Section 4, Class 55 – Teen art work. Winner: Georgia Spragg
Teen Craft Cup . To be held for one year by the exhibitor obtaining first prize in Section 4, Class 65 – Teen craft work. Winner: Eliza Keightley
Judge Cup Section 4 (Art). Winner: Sue Hodge
Judge Cup Section 4 (Craft). Winner: Debbie Moorcroft
BEST IN SHOW SHIELDS – Under 5 years. Winner: Dilly Wilson
BEST IN SHOW SHIELD – 6-8 years. Winner: Molly Lyons and Sylvie Lyons
BEST IN SHOW SHIELD – 9-11 years. Winner: Charlotte Nye