Lamron Developments' appeal against Waverley's refusal of planning permission for 131 homes on land described by Waverley as 'south of Depot and east of Green Lane, Badshot Lea', was dismissed on Friday, decision circulated Monday, which is great news and a massive relief for those who fought the appeal.
But the performance of Surrey and Waverley council officers on this and other appeals have, for me, left a great deal of room for improvement in recent weeks.
At recent planning appeal hearings for residential developments, the councillors and residents were more vocal than the planning officers. Some of the consultants who represented Waverley needn't really have bothered turning up.
South East Water workers installing the new water pipe in West Street, Farnham
(South East Water)
Then we have the issues with the town centre roads; West Street, East Street, South Street to mention three. 
Okay, South East Water have to install a new water main. But they've shown they couldn't give an iota about the impact to the town and residents. As I am sure you will remember, the road closed in the week commencing January 22. 
They are graciously opening the road on Sunday, May 21 for one day – but the end date of the closure has not been disclosed other than them saying 'by the end of the month'.
Then you have Surrey Highways closing South Street, yes, for absolutely essential repairs – but early evening. What were they thinking?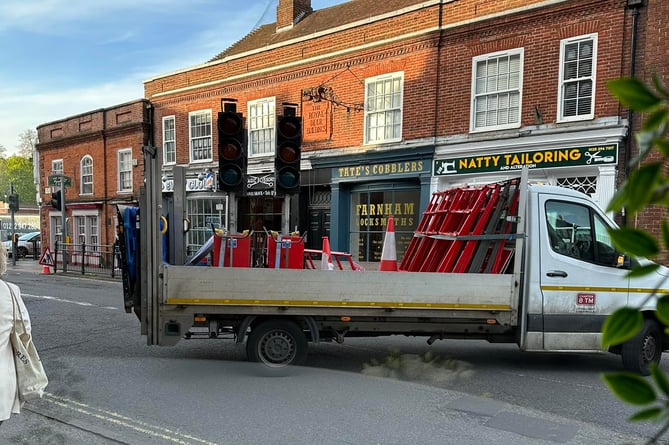 The view from Veena's Kitchen in South Street as Surrey highways workers block off the road for emergency pothole repairs – trapping many motorists in the town centre
(David Quick)
And we hear Crest Nicholson planned to close East Street. I suppose they gave notice – nice of them, I suppose. But they don't have planning permission to undertake the works we think they planned to carry out.
I don't know about you, but are the town centre's roads stationary at some point every day now? Queues stretch back to the fire station ever more frequently.
I hope the shops affected are compensated for their loss of trade during the ridiculously-long period of the West Street closure.
On a positive note, at a meeting on Friday, April 28, Thames Water confirmed verbally there is capacity on the foul water sewer to accommodate the Coxbridge Farm development. 
Anyway, talking of shops...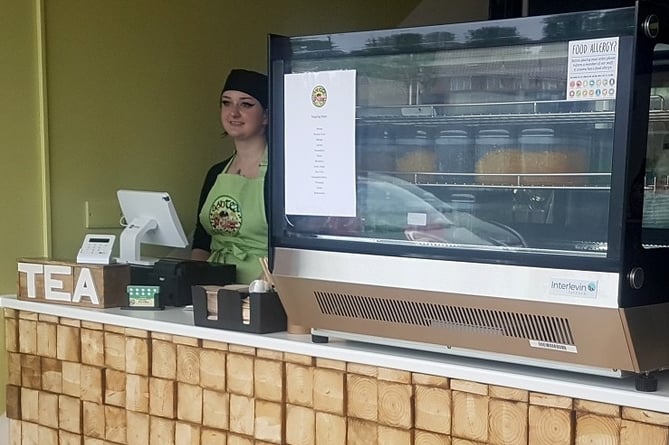 Bubble tea shop Devotea has opened at 8 East Street
(David Howell)
Devotea opened at 8 East Street on Friday, May 12. Devotea not only offers a massive range of bubble teas but will very shortly offer a terrific range of flavours of ice creams. And if that's not enough, bubble waffles. I am waiting to find out as well!
Aubert Yang, the business owner, grew up in Taiwan. Bubble tea was all he knew, he told me – whatever the season, the mood, the friends he was with, it was an everyday must. 
When he moved here to the Farnham area in 2000, he realised bubble tea was very much missing from his life and so decided to share his passion with us and so Devotea was born.  
Aubert tells me "bubble tea is controversially different, daringly tasty, dazzlingly versatile, eccentrically relevant and inexplicably necessary" – "just like each of us" he added. 
Fruit, ice, bubble flavours, teas and milk that you can think of – hot, cold or warm. 
So Aubert asked me to challenge you to express yourself and your mood with one of the many hot bubble milk or chilled fruit teas available. His favourite, by the way, is pearl milk tea (black jasmine tea). The teas are made in three or four minutes so you shouldn't have to wait long.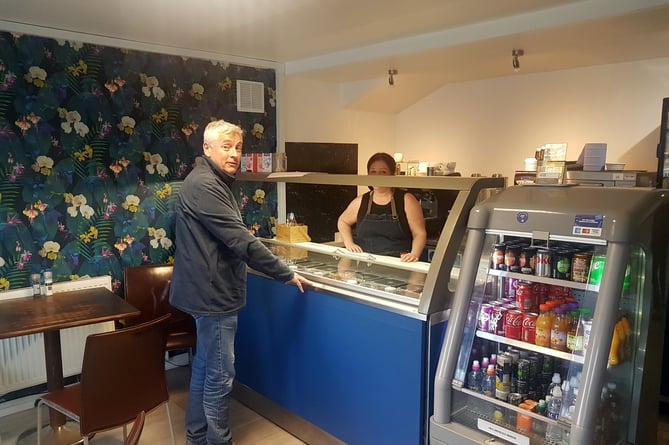 Cllr Mark Merryweather at Lulu's coffee shop in Badshot Lea
(David Howell)
Not affected by the congestion in town is Lulu's, the relatively new coffee and sandwich shop in Badshot Lea. 
The shop is located opposite The Cricketers pub on Badshot Lea Road (number 65) near the crossroads. Lulu set up the café in October last year. 
Parking is available in the pub car park, although you need to register that you have parked in the car park with Lulu or Tony behind the counter. 
Lots of things grab you when you go in – three things for me especially. Firstly the ability to decide what you have in your sandwich or baguette – coronation chicken is the most popular, I was told. They had run out for that day when I went in. 
Secondly, the cakes looked amazing. Carrot cake the best seller – again, all gone. 
Thirdly, the friendliness of Lulu and her partner. They do breakfasts from early, as in 6am. Lulu also offers a catering service and are affiliated suppliers to the Army. The coffee wasn't bad either. 
They tell me some of their customers come from south Farnham now. The café isn't big, with four tables inside and two outside when I was there. Well worth checking out.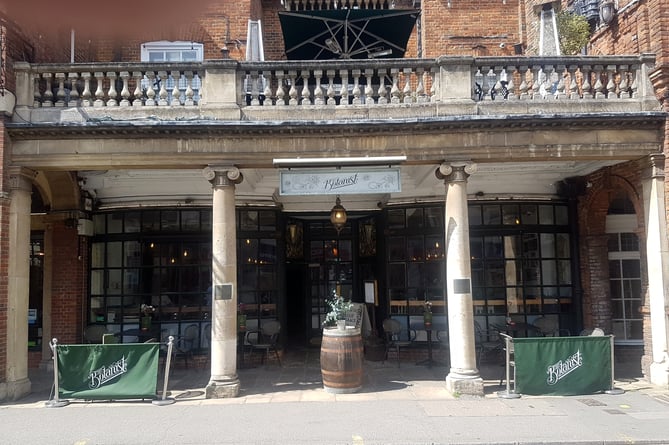 The Botanist has closed the doors of its restaurant/bar in The Borough
(David Howell)
I am sure you will have heard that The Botanist, at 4 – 5 Town Hall Buildings, The Borough, closed its doors on Sunday. I have been told that a new exciting food and drink operator is looking to take over the location. Name and details as soon as I have them.
I have heard that Heaven's Kitchen has completed on the deal to acquire the former Bloom's restaurant at number 7 The Borough. 
I am hoping for more details for next time.
There are several other deals close to completion, so I am going to wait a week and rather than say 'more details soon' again, will report next time. 
Let me just say there is a lot of activity going on in the background...
Business activity leading to occupation in Brightwells... well it's anyone's guess. Maybe Crest will tell us. 
Have you seen the artwork, by the way? What were they thinking?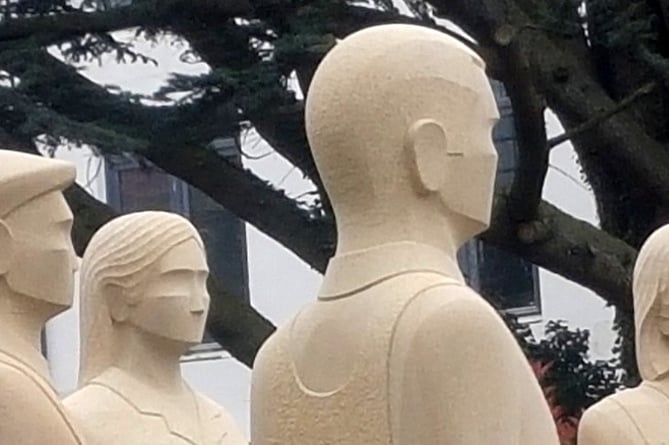 Several stone sculptures of crafters have appeared at Brightwells recently
(David Howell)