As we will all remember, but maybe prefer to forget, Kwasi Kwarteng announced his 'Growth Plan' on September 23, 2022, causing serious and untold damage to every sector within the United Kingdom, including the commercial property market.
Space prevents me from providing more detail but talking to our two local commercial property agents it seems they both suffered. Parts of the market just came to a stop, those having interest in shops cooling off or delaying making decisions, and some clients deciding to dispose of property assets.
Activity in Farnham has picked up though, and both agents reported being very busy, manic in fact. Farnham remains one of the places to trade from, offering a fantastic selection of well-priced quality goods.
The latest vacancy survey is due to be undertaken shortly and I am expecting to see an increase in empty properties. I will report as soon as I hear the results.
Several new businesses have 'set up shop' so to speak since my last report on retail back in September. These include Simply Vintage Clothing at 24 Lion & Lamb Yard and Gentleman's Grooming at number 1 Cambridge Place.
Unfortunately, however, we have lost Bloom at number 7 The Borough, Roost at the North Barn in Lion & Lamb Way, Sharps bedrooms at 14-15 West Street and Every Cloud at number 2 South Street.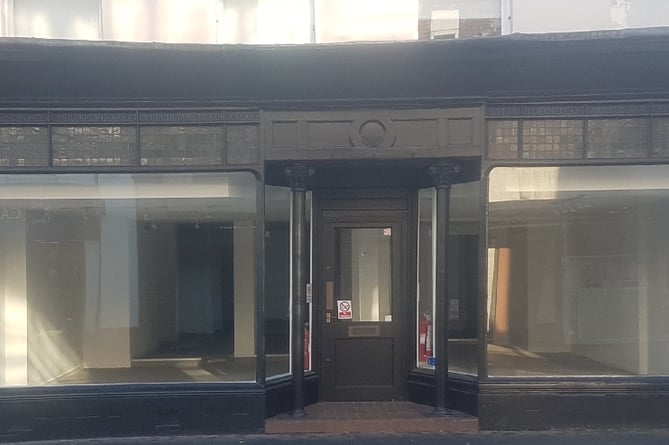 The former Sharps showroom in West Street
(David Howell)
It is concerning that so many units are vacant in the Lion & Lamb Yard. The former Gift Station unit has been occupied by a pop-up shop. More on that soon.
The former Roost coffee shop at the North Barn has been let to a new Italian delicatessen. Hoping for more details soon but they have started fitting out work inside.
The former Goldsmiths jewellery shop at 113B West Street is under offer to Harris+Hoole, coffee shop. Apparently, they describe their baristas as 'Hooligans' and they as a business dedicate themselves to making better coffee.
The former Argos store at number 121 remains empty, although work has been carried out fire-proofing the ground floor ceiling. Planning permission and listed building consent were granted for the fitting out works, shop front and signage on January 13, 2023. I am looking forward to seeing activity shortly and finding out when they hope to open for business. It has been five years since Argos moved to South Street.
The former HSBC bank premises at number 33 has some interest. I don't have any news releases and it is pure speculation, but, we are hearing that Lloyds bank would like to retain a presence in Farnham so this could be a perfect location for them. However, I have heard it mentioned that they had looked at Brightwells. Now that surprised me.
The former Beverley Edmondson shop at number 27A adjacent to the Bush Yard entrance is currently operating as a pop-up exhibition gallery for Tomkinson Churcher, displaying and selling paintings, prints and posters. They are donating 30 per cent of all profits to the Phyllis Tuckwell Hospice.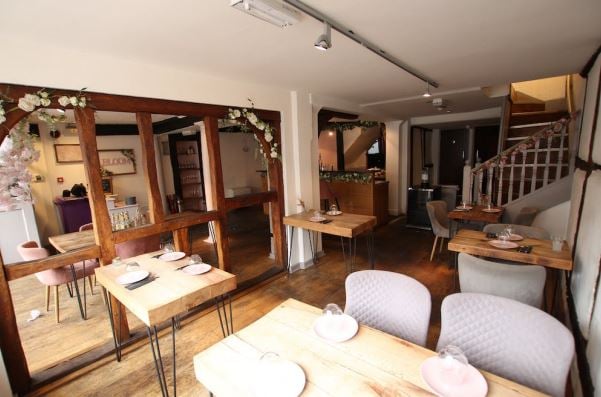 Bloom in The Borough has become something of a 'ghost' restaurant since its abrupt closure before Christmas – with its furniture and place settings all still in place
(David Howell)
The former Bloom restaurant ceased trading very suddenly I am told, in fact so suddenly that the furniture, china, cutlery and glasses are still in place. Some cleaning and tidying up work together with limited refurbishment is underway but there is considerable interest from parties interested in continuing the restaurant use. I suspect it won't be long before an offer is accepted.
Number 2, the former Every Cloud shop, is under offer and solicitors instructed by a new Vape shop business. It is anticipated that new business will be trading reasonably quickly. The Tate's Cobblers shop at number 6 is on the market available from April. The agents have reported on a couple of offers to the landlords, none have been accepted as I report.
The Charters estate agents shop is on the market and I hear that they are planning to relocate to Brightwells before Easter. We will have to wait and see.
The former Bridges estate agent shop at number 8 East Street, adjoining Cambridge Place, is due to be occupied by a new independent food and drink business – 'think My Froyoland' I was told. We should know who is moving in there in the next week or two. Bridges moved next door if you recall.
Surprisingly I saw some activity at the former Kar Ling Kwong Restaurant at 48 – 50 East Street last week. I will try and find out what's going on and let you know.
You didn't think you'd get away without some comment on Brightwells did you? Quite right. Crest Nicholson have been incredibly quiet recently although they did announce that Coppa Club were going to occupy Brightwell House, as reported in the Herald.
There has been no news on who is going to replace M&S Food as the anchor store but it looks increasingly likely it is going to come down to the Coppa Club. Will M&S rekindle their interest having announced their intention to open new food halls? I think M&S and Farnham would be the perfect marriage.
Reel Cinema have been quiet having promised to update residents by the end of 2022. Does anyone know anything, if so do contact me or the Herald.
David Howell is a former chairman of the Farnham Society planning committee and has written the Herald's Bricks & Mortar column since 2019 – he can be contacted by email at: [email protected]