As the weather improves, there has certainly been a spring in the step of the commercial property market locally, with further activity in both the industrial and office sectors in recent weeks.
In the industrial market, demand for well-located and good quality 'sheds' remains high, evidenced by a recent lease extension in Alton where the Southern Central Ambulance Service NHS Foundation Trust has extended its lease on a 7,460 sq ft industrial and office property on the Riverwey Industrial Estate, by a further 15 years.
Nick Reeve of Curchod & Co said the transaction in Alton confirms the strength of the local market, which has been further underlined by a number of recent deals agreed at the new Quantum Business Park in Church Crookham.  
Located just a few minutes' drive from Farnham town centre, the new ten-unit industrial and distribution development has seen a 5,888 sq ft letting to Secure Transportation in the past few weeks, with deals on three further units totalling 31,184 sq ft now in solicitors' hands. Just two units, totalling 5,408 sq ft, remain available.
"With a continuing lack of supply across south-west Surrey and north-east Hampshire, the recent activity and continuing high demand for industrial and distribution properties point towards further upward pressure on rents," said Nick Reeve.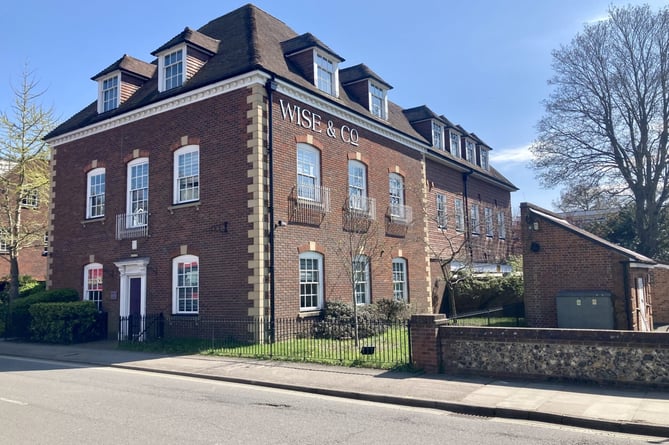 Waverley Borough Council has awarded a new ten year lease on Wey Court in Farnham to the accountancy firm Shaw Gibbs
(Richard Dunmore)
There has also been activity in the office market locally. Wey Court in central Farnham has also seen an extension to an existing lease on around 10,012 square feet of offices. Previously let to Wise & Co, the lease was surrendered, and a new lease for ten years was simultaneously granted by the landlord, Waverley Borough Council, to the accountancy firm, Shaw Gibbs. The transaction coincided with the acquisition of Wise & Co by its former rival.
Elsewhere, the sale of Lion Court, just outside Bordon, which includes over 26,000 sq ft of office, warehouse and laboratory space on a site of nearly nine acres, has now been completed, following the relocation of the German pharmaceutical company Fresenius Kabi. It is reported that the property has been purchased by a local property investment company.
In other local office market news, rumours are circulating that The Courtyard in West Street, Farnham, which previously provided around 12,000 sq ft of office space has been sold to a developer for conversion to residential property.
Alex Blown of Curchod & Co suggested that while much of the office space was obsolete by modern standards, The Courtyard represents a loss of a significant amount of the town's total stock.
"If the rumours are true, the conversion of The Courtyard to residential will further reduce the limited supply of small offices available for local businesses and start-ups in the local area," he commented.
Commercial property correspondent