More than half a century ago two men faced each other on the pitch in a nail-bitingly close cricket match that would decide whether a club could clinch a historic hat-trick.  
Those two cricketers did not meet up again for 50 years. Peter Pietrusiewicz describes what took place when they did and reminisces about the encounter that crowned a golden era in local cricket: 
"On Sunday, June 26, 2022, I met up with Chris Grant at the Recreation Ground, Elstead. I had not spoken to Chris since we met at the same location on Saturday, September 23, 1972, when we were on opposite sides as we took the field.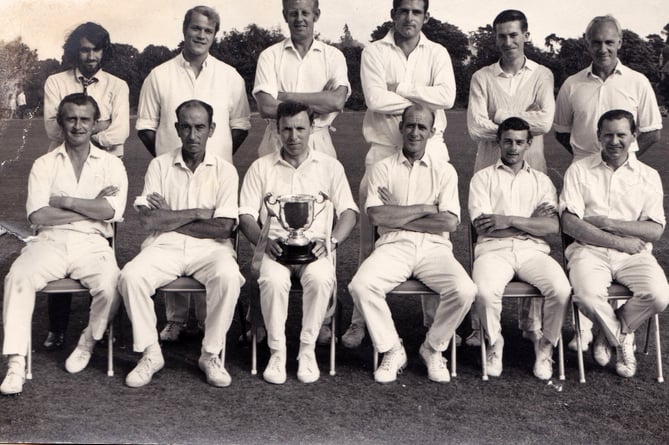 The 1972 title-winning Thursley team with the I'Anson cup
(Herald)
"Chris was a stalwart of Elstead cricket over many years. He and Elstead CC were determined to stymie Thursley CC, their long-standing adversary and stop them from winning a hat-trick of I'Anson Cup victories.
"I was the opening bowler for Thursley and having been a member of their team since 1970, was eager to do my bit to complete the hat-trick of successes.
"As the scorecard shows and the Farnham Herald report (both below) confirms, Thursley won the game by two wickets and the I'Anson title by one point. Chris Grant had very good bowling figures of four for 34 including bowling me out for a duck.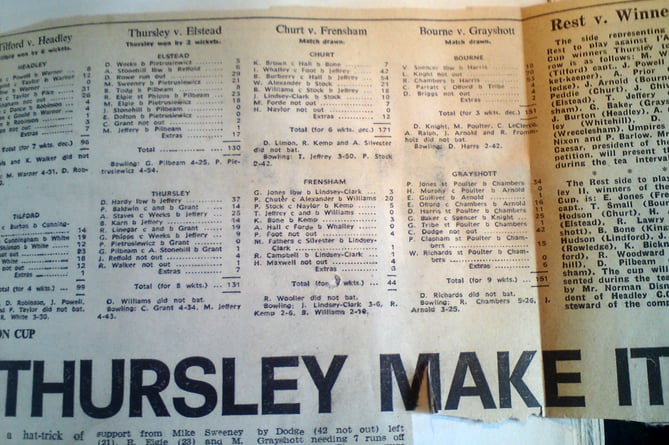 Scorecard of the 1972 I'Anson title decider
(Herald)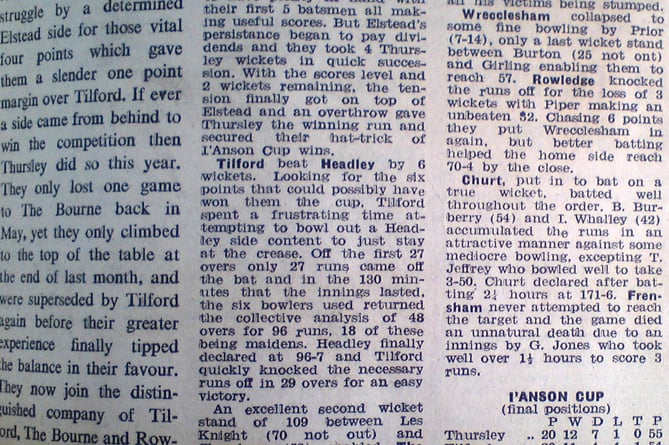 The Herald's match report on the 1972 I'Anson Cup title decider
(Herald)
"The I'Anson History of League Winners shows Thursley won for the first time in 1924 and then came the hat-trick of wins – 1970, 1971, 1972 – and that, unfortunately, has been it to date.
"With great pleasure we looked back to that last match with Chris being mostly philosophical, particularly when overthrows won this very tight and tense encounter.
"The irony of this result was always bitter-sweet. Most of the Thursley cricketers lived in Elstead and included Geoff Phipps, the local bobby.
"Further to this scenario, when the football season kicked off, the fit Thursley cricketers would play for Elstead FC. This included my presence along with other Elstead stars confirmed by a team photo dated 1967 that is displayed in the pavilion's upstairs bar.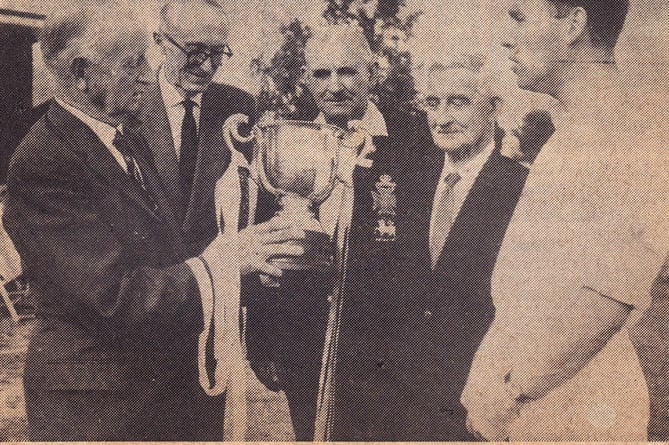 Thursley's 1972 I'Anson Cup-winning captain B Karn is handed the trophy by captain of the cup-winning team 50 years earlier, ML Rapley
(Herald)
"I attach pictures and some copies of the match report printed in the Farnham Herald in the edition of September 29, 1972 (the above game took place six days earlier on September 23).
"The Elstead Pavilion Bar has on display many pictures from bygone days showing the many sportsmen who represented the village in both sports – a time that feels a millennium away.
"Finally, a few weeks ago, on April 1, 2023, I again met with Chris Grant, this time at the South Downs coffee house in Thursley Road, Elstead. I told him I had still not forgiven him for getting me out for a duck on that fateful day in September 1972!"