South Street and Union Road in Farnham town centre were closed for emergency resurfacing works on Wednesday evening.
Surrey County Council contractors spread 15 tonnes of asphalt across the junction in the hope the repairs will last longer than the previous patching works in February.
The patching material used is guaranteed for two years – meaning if the road breaks up again within this timeframe, it must be repaired free of charge to taxpayers.
But permanent resurfacing of the road has been deferred until the Farnham Infrastructure Programme's town centre improvements are implemented.
This could take place anytime from December, subject to traffic modelling, detailed design work and councillor approval.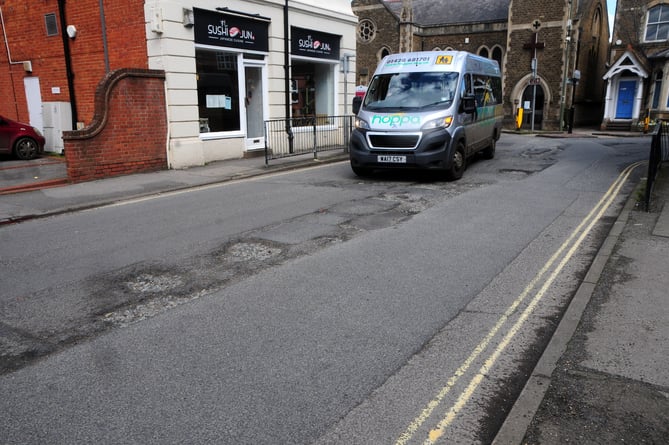 The junction of Union Road and South Street in Farnham pictured on Tuesday, April 25, prior to this week's emergency surfacing works
(Daniel Gee)
As previously reported in the Herald, the road surface in South Street and Union Road, directly outside the town council offices, has been deteriorating at a rapid rate after first breaking up in bad weather during January.
Prior to Wednesday's emergency works, residents and councillors had called for an urgent permanent fix amid concern for the safety of motorists, cyclists and pedestrians, after temporary 'defect repairs' by Surrey Highways contractors in February had little effect.
According to the county council website, the A31 Farnham Bypass between Hickeys Corner and the Shepherd and Flock and Crondall Lane, including its junction with West Street, are scheduled to be resurfaced this year.
While the A31 between the Weydon Lane and Coxbridge junctions, Dogflud Way, West Street (between the Crondall Lane and Downing Street junctions) and Broomleaf Road are scheduled to be resurfaced in future years.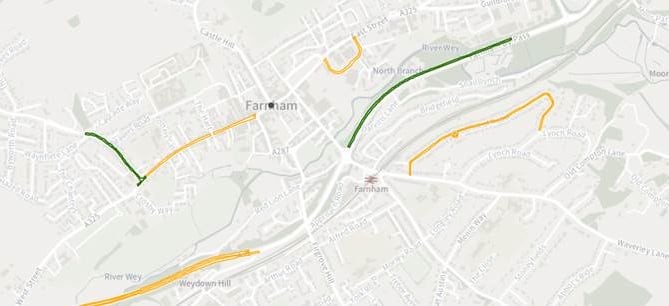 These are the scheduled works on Surrey County Council's road resurfacing programme – green roads are planned for this year, and orange for future years
(Surrey County Council)
The Herald is awaiting further information on the permanent Farnham Infrastructure Programme town centre resurfacing works.