A business owner had to take matters into his own hands after county council highways contractors accidentally blocked off one of the last remaining exits from Farnham town centre last week.
South Street and Union Road were closed ahead of emergency resurfacing works at 7pm on Wednesday, May 3. 
But by closing South Street at the Royal Deer crossroads, in combination with the closure of West Street, the highways workers inadvertently left many motorists in a spin, trapped in the one-way system with nowhere to go.
Watching on in disbelief was David Quick, owner of Borelli's Wine Bar and Veena's Kitchen, who after watching the unfolding chaos for 15 minutes decided to remove the cones blocking South Street himself to get the traffic moving again.
He said: "At 7.45pm four workmen arrived and on questioning they said they were here to repair potholes. I said 'are you aware West Street is closed?' 'Where's that?' was the reply!
"I asked why close the street completely at such an early time, surely this is a late night job? 'No we have been told to do repairs now', they said.
"I further suggested 'surely you have to keep one lane open, there is no need to close the whole road?' One workman who appeared to be the supervisor replied, 'I suppose we could'.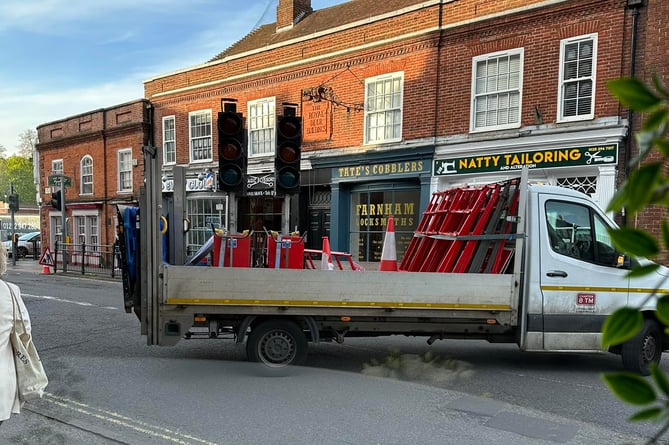 The view from Veena's Kitchen in South Street as Surrey highways workers block off the road for emergency pothole repairs – trapping many motorists in the town centre
(David Quick)
"Unbelievable incompetence of the highest order – no-one could get into The Bush Hotel and we had to cancel our delivery drivers and lost much of our evening takeaway business!"
The road surface in South Street and Union Road, directly outside the town council offices, has been deteriorating at a rapid rate after first breaking up in bad weather during January.
Last Wednesday, Surrey County Council contractors spread 15 tonnes of asphalt across the junction in the hope the repairs will last longer than the previous patching works in February.
The patching material used is guaranteed for two years – meaning if the road breaks up again within this time frame, it must be repaired free of charge to taxpayers.
But permanent resurfacing of the road has been deferred until the Farnham Infrastructure Programme's town centre improvements are implemented.
A Surrey County Council spokesman confirmed: "South Street and Union Road are included in the major town centre works, which includes full resurfacing. Detailed design work is taking place at the moment, with construction due to start next year."