New works created by three professional artists from the Ukrainian Art Support Group at Creative Response in Farnham are currently on display at St Mary's Church in Guildford.
The Art for Ukraine exhibition features the work of Mariya Borysova, Natalia Sharomova and Niel Ballingal and will close at 3pm on Thursday (May 25). St Mary's Church is located in Quarry Street, Guildford, GU1 3UA.
Mariya Borysova is a painter, graphic artist, art teacher and mother of four children. She graduated from Kharkiv State Academy of Design and Arts and works in modern art, exploring facets of female nature, motherhood, sacrifice and freedom. 
Her style borders on realism and symbolism, evoking Ukrainian folk ornaments and Dutch floral still life. She has participated in many group and solo exhibitions in Ukraine, the USA and UK. She moved with her family to Farnham because of the Ukrainian war.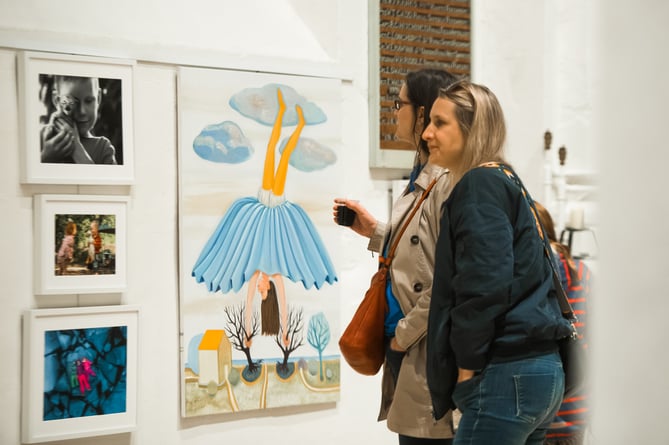 The Art for Ukraine exhibition showcases the work of three professional artists who lead a Ukrainian Art Support Group in Farnham
(Natalia Sharomova)
Natalia Sharomova is a photojournalist from Kyiv and is closely involved in political affairs in Ukraine. She has undertaken a project about Anna Kyivska (Anne of Kyiv 1030-1075) in France and an aerial project about the beauty of the country.
She was the winner of the XV International Photo Contest "Day-2019", Ukraine National Photographer of the Year 2012,  International Format (ISF) silver medalist, and awarded second place "Life Against Contrary" in the National Photo Contest from the NSFHU and Canon.
Natalia and her two children are now living in Farnham, having arrived here to escape the war.
Niel Ballingal has been painting from an early age. His paintings have been exhibited at two solo shows in London, in many galleries in Cornwall, where he lived, as well as in Hong Kong. More recently, he has included his raku pottery at exhibitions in open studios. Niel started a series of paintings in response to the war in Ukraine, which will be shown for the first time in the exhibition.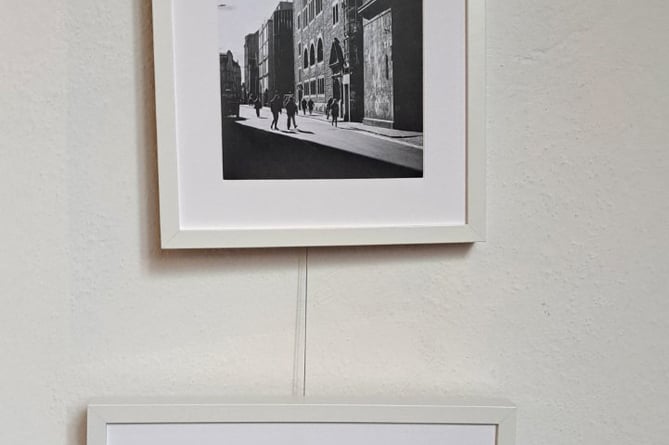 Borysova and Sharomova are both from Ukraine, whilst Ballingal is from the UK. The Art for Ukraine exhibition closes on Thursday, May 25
(Natalia Sharomova)
Since November last year, Mariya, Natalia and Niel have led weekly art sessions for Ukrainian people living in the Farnham area. The sessions are run by Creative Response, in partnership with Activate Learning.
"It has been a pleasure and a privilege to welcome our Ukrainian guests into the Creative Response community and a real joy to see the amazing artwork being made by the Ukrainian group each week," said Kathryn McManus, chief executive at Creative Response.
"I am grateful to Niel, Mariya and Natalia, whose work is exhibited in this very special exhibition, for their fantastic joint leadership of these art sessions. My thanks also go to the team at the parish of Holy Trinity and St Mary's for making the space available for this exhibition."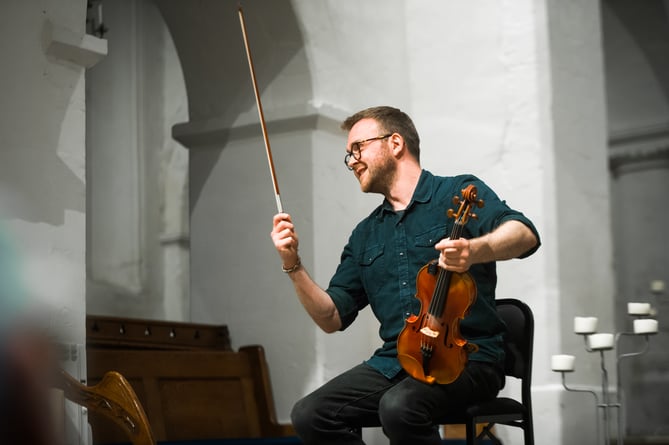 The Art for Ukraine exhibition on May 12 coincided with a Vigil for Ukraine
(Natalia Sharomova)
The exhibition is supported by Folk Inspiration, a concert organiser in Guildford that runs regular fund-raising events for Creative Response.
"I wanted to do something at our May concert at St Mary's to show the positive impact that Creative Response makes on the wellbeing of local people," explained Jo Hughes, Folk Inspiration's founder.
"When I learned that St Mary's has been holding a weekly vigil for Ukraine, I thought about having an exhibition involving the Ukraine group at Creative Response. The credit for this exhibition must go to the artists, who have worked so hard over the last few months, and to everyone at Holy Trinity & St Mary's for their generosity."
Creative Response, based in Vernon House above Farnham Library, is an independent arts charity providing and promoting access to creative practice and the arts for the wellbeing of vulnerable people in our community.