After all the excitement and enthusiasm of Carnival 2022, which played its part in the Queen's Platinum Jubilee celebrations, this year's Farnham Carnival highlights the upsurge in reading with its theme of The Wonderful World of Books.
According to Publishers Association figures, the past 12 months has seen increases in UK book sales across the board, and in particular children's books.
"Reinforcing this," confirms Carnival chairman Graham Noakes, "a recent survey has shown the number of books read by children has increased by almost 25 per cent – an astonishing statistic!
"So it's great that at Carnival we can celebrate such great news. 
"In both the Gostrey Fayre and the parade there will be opportunities for the usual thousands of visitors to see their favourite book characters come alive across the town throughout the day." 
With Farnham Carnival now just days away on Saturday (June 24), everything is in place for another fun-packed time for all the family. 
"Today we have a tried-and-tested formula which we know creates a great atmosphere for visitors of all ages," Graham confirms. 
"At the same time, it's essential to keep Carnival fresh and this year we have introduced some exciting new ideas to keep everyone involved and entertained."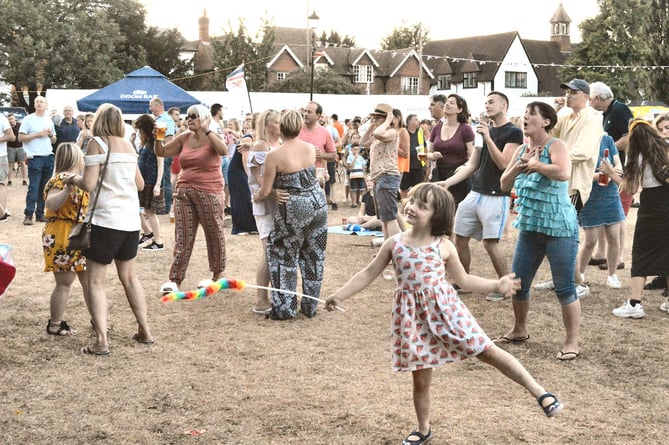 The Farnham Carnival fayre in Gostrey Meadow
(Farnham Carnival)
The Carnival Fayre – from 2pm
The Gostrey Meadow Fayre, this year sponsored by Biffa, will be opened at 2pm by the town mayor Councillor Alan Earwaker. 
Much of the music will be provided by a host of new bands. After an opening set by Off the Record, the terrific line-up includes Two Weeks in Nashville, True Deceivers and The Sleeping Dogs. 
Tradition will be maintained, however, as local favourite (and new deputy mayor!) Brodie Mauluka and his band Brobed Stills bring Carnival to a close with their infectious mix of blues, rock, reggae and soul.  
The fayre includes its usual wide variety of stalls and food outlets, as well as a beer tent, gin and Prosecco bars. 
A Children's Corner, sponsored by Surrey County Council and opened by Cllr Michaela Martin, will provide funfair attractions, games and entertainment. 
These include Mr Magic's ever-popular Punch & Judy Show and Mr Muddle's 'magical mayhem'.
This year also sees three new additions, emphasising Carnival's aim of offering something for everyone.
Reinforcing the Carnival theme, throughout the afternoon, starting at 2pm, there will be a special children's book tent with a series of half-hourly readings of favourite books. 
BexyBelle will be first off the mark with The Owl that was Afraid of the Dark by Jill Tomlinson: other readers include Lovely Lydia, Nanny Rose and Stellar Simone, with planned books ranging from The Gruffalo, The Detective Dog, That Pesky Rat, The Giant Sandwich and every young child's favourite, Oi Frog!
In addition to multi-media story-telling through dance and movement, there will be some signed volumes and even free books for the lucky winners!
The fayre will also underline Farnham's national status as a specialist craft town by including its own craft marquee with a range of Anytime Artisans stallholders. 
Visitors will be able to stroll through local makers' stalls, featuring traditional, contemporary and memorial jewellery, hand-made and painted ceramics, textile art, upcycled vintage cutlery, garden sculptures and many more.
Finally, for whose best friends are canine, Carnival will feature a charity dog show organised by Farnham Veterinary Group. 
With prizes and rosettes for different classes including puppies, Loveliest Lady, Fabulous Fella, Golden Oldie and Young Handler, there'll be something for all dog lovers.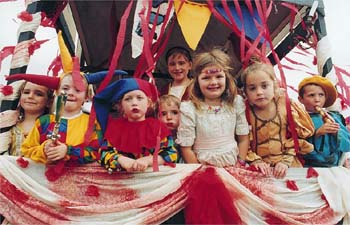 St Mary's Infant School, Frensham, entered a very colourful float at the 2021 Farnham Carnival!
The Carnival Parade – from 6pm
The Carnival Parade, which starts at the Upper Hart Car Park at 6pm, will then wend its way around the town for more than an hour. 
This year, sponsored for the first time by GreenLife Designs UK Ltd, the parade will be watched by thousands of excited spectators and this year's theme focusing on all sorts of book characters offer a real opportunity for entrants' colourful and noisy imaginations. 
Parade chairman Chris Wilson said: "If you are coming to watch the parade, please bring lots of loose change with you, as all the money collected in buckets on the way round – typically several thousands of pounds – will go to the schools and local charities taking part.
"However, keeping up with the times, as last year there will also be every opportunity for you to donate electronically!" 
The event is managed jointly by The Hedgehogs and Lions Club of Farnham, who are hugely grateful for the help provided by many other clubs and individuals. 
In addition to this year's new principal sponsors Biffa and GreenLife Designs UK Ltd, gold sponsors include Farnham Estates, Farnham Institute Charity and new sponsor Challenge Fencing. 
Silver sponsors include A&D Car Care Farnham, BakerLaw, Magimix Spares (BBS), Elphicks, Farnborough Airport, Farnham Chamber of Commerce, Farnham Town Council, Itchen Valley Transport Services, The Lost Boy, Squires Garden Centres, Surrey County Council, Tindle Newspapers, Weyfest and Wise & Co, joined this year for the first time by A-Plan Insurance, Moran Roofing Specialists and the Bush Hotel.                   
Brochures detailing the day's events can be picked up in advance from the Farnham Herald office, the town council office, Farnham Library, Waterstones, Blue Bear Bookshop and Oxfam Books & Music. 
On the day, they will also be available around the town and at the entrances to Gostrey Meadow.