If you are still planning what to do this bank holiday weekend, then look no further. Why not come along to Grayshott village, to enjoy a day or two at their Hidden Gardens of Grayshott charity event on May 28 and 29.
This popular village event has more than 40 gardens and attractions to discover and is a great day out for the family and even our four-legged friends (we have a paw friendly trail where some of the garden owners have kindly offered to accept well-behaved dogs on short leads).
If you want to be inspired and enjoy lovely home-made tea and cakes in gorgeous settings, this is the place to be! Here is just a selection of some of the beautiful gardens that will be on show.
It is not just about gardens, we have a host of attractions too.  
GoldenEye Forge is hidden on the side of Golden Valley and is a semi-period working forge. Rod Hughes, a blade-smith (right) forges and fashions swords and casts bronze sculptures.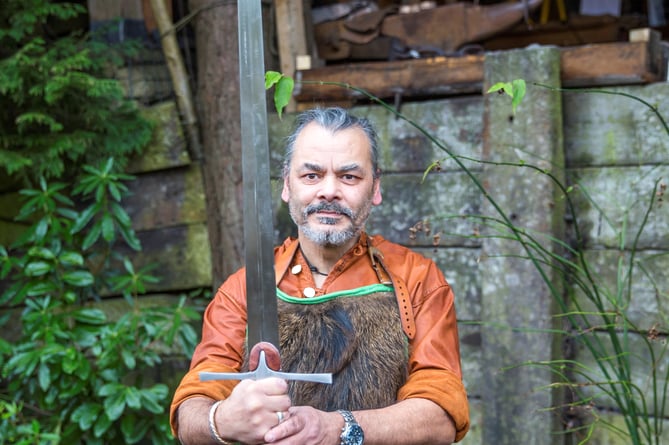 Blade-smith Rod Hughes forges and fashions swords and casts bronze sculptures from his GoldenEye Forge near Grayshott
(Hidden Gardens of Grayshott)
Rod makes historic weapons and artefacts using period techniques for museums, collectors and film. The forge is hand built from local wood and hand-hewn timber. To find out more visit https://www.rodhughes.org/
Kate Turner, a gardening guru for Miracle-Gro, will be doing a series of talks and demonstrations on the Sunday. She is a trained horticulturalist and has a wealth of experience working behind the scenes on many gardening programmes – on BBC Gardener's World, Alan Titchmarsh's Love Your Garden on ITV, and Garden Rescue with Charlie Dimmock. She was head gardener at Charterhouse School and ran an Army Wives Garden group,  creating a silver-gilt medal winning garden at the Hampton Court Flower Festival. 
Kate has a deep love of plants – from vibrant houseplants to stunning gardens and growing your own fruit and veg – so she knows all the tips and tricks for successful gardening. She can be seen on social media giving top tips and advice (https://www.instagram.com/miraclegrouk)
Grayshott has its very own bee-keeper so if you want to learn all about the bees then help Brad find the Queen Bee in his fascinating display. He can also give you advice on the best flowers to plant in your garden. You will discover Brad in one of our gardens.
Textile artist Helen Deighan will be doing weaving demonstrations and exhibition of quilts from local craftspeople in one of the gardens. Come and sit at the loom and learn your "warp from your weft".
Phil Bates is a resident artist who will be exhibiting a selection of paintings in his garden. The paintings incorporate primary colours, textures, geometric shapes and pattern repeats. Phil's work is abstract.
Not forgetting the fire station, where our amazing firefighters will have a series of displays over the weekend, and the local primary school, where there is a planting station for children.  
All these amazing attractions are included in the price of your ticket which is valid for two days, with under-16s free. 
All the money raised will be reinvested into gardening projects in the village, so why not pop along.
If you have only a few hours to spare, we have created shorter trials which cater for the many needs of our visitors.
Not only is there the paw-friendly trail, but also an easy access trail, a heritage trail and a new gardens trail.