The Vortex was one of Noel Coward's first plays and, after finally getting the Lord Chamberlin's permission to stage it, shocked 1924 audiences with its scandalous story line of drugs, sexual cheating and a toxic relationship between a mother and son.
To mark the 50th anniversary of Coward's death Chichester Festival Theatre have chosen to open the summer season with The Vortex, and, although still raw and disturbing, modern day audiences aren't so shockable 90 years which loses some of its impact, although the fine performances it produces are a compensation.
We first meet the stereotype Coward characters, not exactly bright young things, although there is one effeminate hanger-on by the name of Pauncefort Quentin (Richard Cant annoyingly good) who brightens things. A dreary bunch, they have gathered at the London flat of Florence Lancaster, a middle aged woman who behaves like an adolescent 20 year old terrified of losing her good looks and cheating on her husband with a toy boy lover Tom. 
Lia Williams plays Florence, giving a fine performance full of fire, energy and pathos as the play moves rather too slowly from cocktail drinking nightclub scenes to the heart of the drama when only Lia and her son, Nicky (a riveting performance by Joshua James) finally confront each other.
By now the scene has moved from the London flat to the Lancaster's country house where the guests have gone to bed but Lia, unable to sleep after finding her young lover has been cheating on her, wanders mournfully about the room.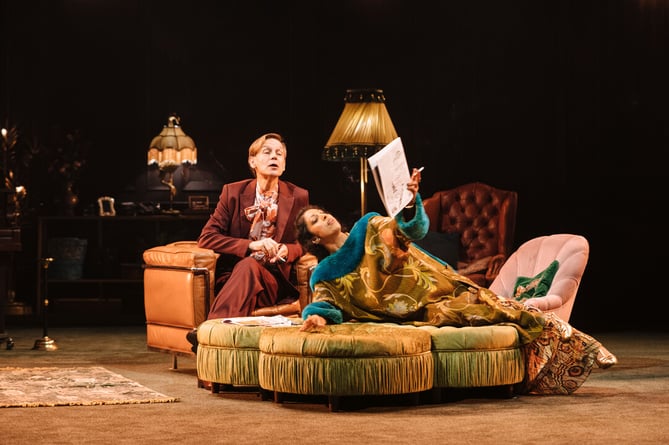 Richard Cant (Pauncefort Quentin) and Priyanga Burford (Helen Saville) in The Vortex at Chichester Festival Theatre
(Helen Murray)
Nicky, who we first meet as a happy, newly engaged, man about town, arrives home late. As he does the furniture moved slowly way and the two are left on a empty stage to enact a savage, raw and heart breaking confrontation.
With little sympathy for his mother's troubled state he asks her to tell him the truth is she having an affair with Tom? She screams defiance, saying Nicky's father takes no interest in her and at last she has found love.
Enraged, Nicky grabs her and tells her she is a selfish woman who never loved him and cares only about herself. Lia because hysterical when he tells her she is losing her looks and screams abuse back at her son. As the turbulent scene moves to a climax Nicky reveals his shocking secret reducing the now violent Lia to a stunned silence.
The whole play centres on these two – they are mother and son in real life – and with the sensitive direction of Daniel Raggett, they are an acting tour-de-force Coward would certainly applaud.
The Vortex runs at Chichester Festival Theatre until May 20.