The National Trust will give a rare update on its beaver reintroduction project on a secret location near Haslemere next Saturday, as the town hosts its first-ever Great Green Get-together.
The free event, from 10.30am to 3.30pm on March 18, will celebrate Haslemere's commitment to sustainability and community projects aimed at creating a greener future.
Held at Hasleworks in Petworth Road, it will offer attendees the chance to learn about a range of community initiatives and how to get involved as volunteers.
One of the key speakers at the event will be National Trust ranger David Elliot, who will update attendees on the rewilding and beaver reintroduction project south of Haslemere.
The project is aimed at changing the landscape to reduce flooding, and the National Trust will provide an update on progress made so far. Mr Elliot's talk begins at 11.30am.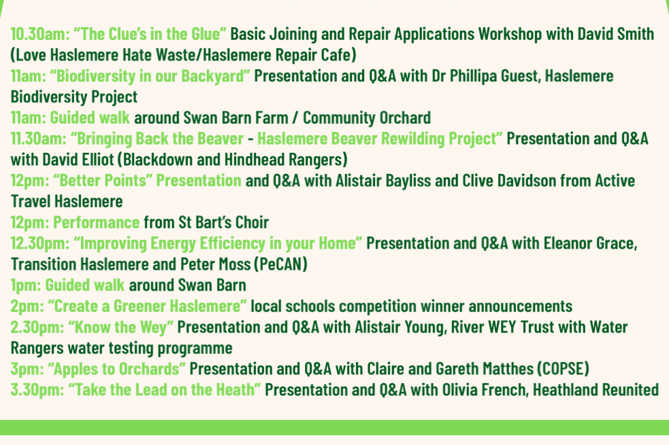 Haslemere's Great Green Get Together programme
(Nikki Barton)
Other initiatives to be showcased at the event include the River Wey water rangers (2.30pm), who are working to measure pollution levels in the river following sewage outfalls, plans to introduce a 20mph limit in Haslemere to make it safer for walking and cycling (midday), and a community initiative to reduce household heating bills (12.30pm).
Attendees can also participate in a range of workshops and family-friendly activities, including guided walks to Swan Barn and the community orchard (11am and 1pm). St Bartholomew's school choir will provide entertainment (midday), and free refreshments will be available.
As part of the event, a children's art competition will be judged at 3.30pm, with prizes including a family foraging experience donated by countryside expert Jonnie Taylor, vouchers for refreshments at Olivier's Cafe, and an all-day art workshop from Artbox.
The Great Green Get-together event is being organised by a partnership between Haslemere Town Council, the council's climate change and biodiversity working party, Love Haslemere Hate Waste, and Haslemere Transition Town.