With the alleyway between Farnham's CE Hall optometrists and Blow heads Barber Studio providing a suitably sinister backdrop, The Dead of Winter follows the story of a wealthy family man who encounters a rough sleeper on Christmas Eve and brushes him off.
However, his ignorance finds him haunted by a spiritual Figure, where he battles with the consequences of his own actions, and eventually meets a grisly and ghostly end.
Dubbed the "classic Christmas ghost story for modern times," director and writer Stephen Graves has turned to more traditional tales to inspire the 12-minute film. The likes of Charles Dickens' A Christmas Carol, fiction from MR James and BBC Ghost Stories for Christmas from the 1970s help to inspire the uneasy and eerie atmosphere and contribute to the important subtext of homelessness in the UK which is interlaced throughout.
However, this is not Stephen's first venture on to the scary scene. Having previously worked on an array of films spanning both comedy and horror, the Berkshire-born director admits he now wants to journey a little further into the spooky field.
"I've always been a big fan of horror, but previous works have flipped wildly between the two genres. I often do a comedy and think it was really surface level, then go on to do a horror and think it was too bleak. But I now want to continue doing some more horrors and keep exploring."
And Farnham was certainly the perfect spot for this exploring to begin. Located in the filming 'sweet spot' with its close proximity to London and nearby Surrey Film Office, the town was ideal for the film, and shooting began in and around the high street in January this year. 
Although the project was keen to ensure that as little disruption was made to the town, local businesses were more than happy to allow the filming team to use the area, with many shops opening up access ways, and The Bush Hotel offering up space for a green room. 
The crew even had a little extra technical help, offering experience to students and recent graduates from UCA who got involved by taking on behind-the-scenes roles, as well as dealing with facilities and kit.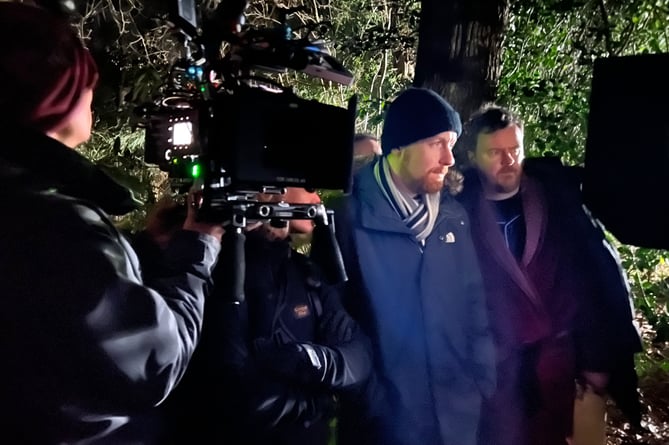 Director and writer Stephen Graves on the set of The Dead of Winter
(Nicci Brighten)
"Shooting in Farnham was a great experience, and we had nothing but help from local businesses. We would definitely want to come back and film in Farnham again, if the nature of the project allowed it," said Stephen. 
But the film was also special in more ways than one. Part-funded by a cryptocurrency crowd raise through First Flight's F3 platform, the project is one of the first to come from the emerging Film3 movement. 
With aims to decentralise the film movement and offer even more development and production possibilities to up-and-coming directors and film crews, Stephen hopes the film's participation will see even more projects receiving funding in this way.
And the director, who frequently attends horror event FrightFest and met producer Nicci Brighten there last year, saw his dreams become reality as The Dead of Winter celebrated its world première at the festival on Saturday, August 26. 
Being the UK's biggest thriller, fantasy and horror film festival, this première certainly points to big things on the horizon, and we are likely to see more of Stephen's spine-chilling stories on our screens in the future.