Harry's ashes finally come home
Saturday 24th June 2017 6:00 am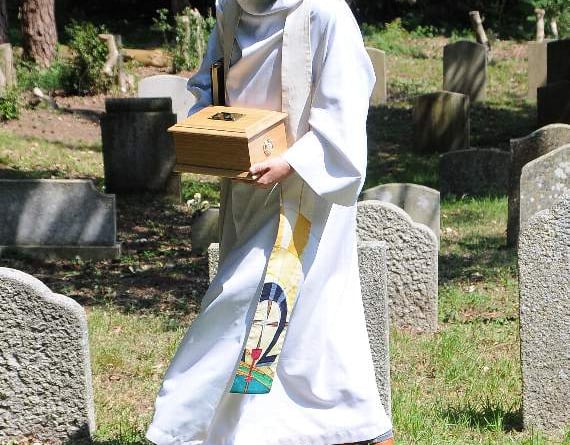 The Reverend Dom Clarke with the ashes. Picture order no: BD26-141-17 (bordonherald.com)
Subscribe newsletter
Subscribe to our email and get updates right in your inbox.
THE ashes of Harry Dodson came home to Blackmoor this week, more than 10 years after his death.
A ceremony on Monday saw the Reverend Dom Clarke welcome Mr Dodson's friends and family to mark the interment of his remains at St Matthew's Church.
He became a household name in 1987 after the TV series The Victorian Kitchen Garden was first shown on BBC2.
Following the death of his father, when Mr Dodson was six years old, the family moved from Surrey to Blackmoor where his grandparents lived and where his uncle Fred Norris was head gardener to the Earl of Selborne.
Lord Selborne said that when Mr Dodson left Blackmoor school he began working under his uncle as a 'garden boy' earning 7s 9d (39p) a week.
After his death, his ashes remained with an undertaker who had no instructions on where they were to be buried. But recently it has been established that Mr Dodson wished to be buried in his mother's grave at St Matthew's Church.
"The ceremony went very well," Lord Selborne explained. "Harry Dodson's family was well represented and so also were colleagues from Harry's long career in horticulture.
"At the end of the service, Jilly Prideaux of The Friends of St Matthew's and her colleagues laid on tea and cakes for all. Some of the attendees had come from as far afield as Birmingham. It was splendid that Harry Dodson's wish for his ashes to be buried in his mother's grave has finally been fulfilled and his wife is also commemorated on the gravestone."
At the age of 27, Mr Dodson was "one of the youngest head gardeners in the country, working for the Ward family at Chilton Foliat in Berkshire. By the 1980s, Chilton was no longer viable as a traditional kitchen garden but the owners allowed Mr Dodson to use the space rent free as a commercial nursery.
Mr Dodson's life changed in 1984 when Jennifer Davies, a researcher for BBC Bristol who was planning a television series on Victorian gardening, discovered him and his unique walled garden.
He was said to be immediately enthusiastic about the show and, with the blessing of the Wards, the gardens were restored, planted with period cultivars and filming began.
The Victorian Kitchen Garden was followed by The Victorian Kitchen in which Mr Dodson joined forces with cook Ruth Mott to bring food from the garden to the dinner table.
Mr Dodson died on July 25, 2005, at the age of 85. And now his final wish has been granted.
Comments
To leave a comment you need to create an account. |
All comments 0