A massive spill of cooking oil has closed a lane of a major Farnham A-road – with the road set to be closed for resurfacing overnight on Friday into Saturday.
The spill on the A287 Upper Hale Road is thought to have occurred between 11am and 11.30am on Wednesday morning, and caused several cars to skid before Surrey Highways arrived to close the affected stretch of road and put in place temporary traffic lights between Oast House Lane and Willow Way.
The source of the oil spill is currently unknown, but county councillor for Farnham North, Catherine Powell, has called on anyone with information or footage relating to the spill to email her at [email protected]
Cllr Powell said: "After vehicles had skidded on the oil spillage it was reported to Surrey Highways, who came out to inspect the road and then closed the road as it was clearly unsafe.
"Yesterday afternoon/evening the emergency team tried four times to clean up the oil spill but they couldn't make the surface safe to drive on.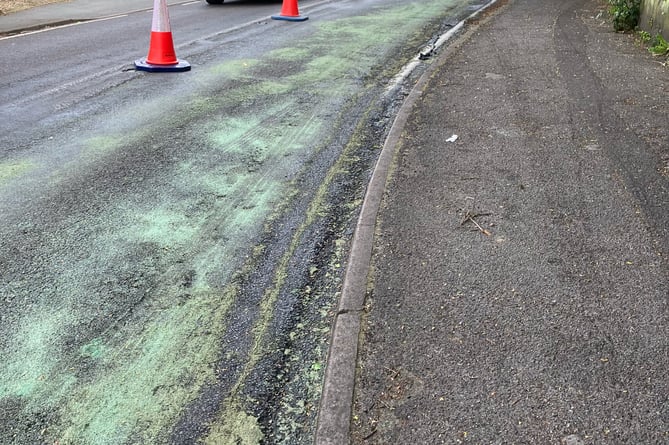 A lane of the A287 Upper Hale Road is currently closed after a huge spill of cooking oil on Wednesday
(Catherine Powell)
"Eventually they determined that one lane was okay, so they set up four-way lights for Willow Way, Upper Hale Road and Oast House Lane. The lights are still in place.
"Highways have done a further inspection and determined that it is not possible to make the highway safe. So after assessment today Surrey Highways have established that they need to get that section of road resurfaced.
"This is being done as emergency works and they are now working with their contractors to get the materials, and resources to complete this work.
"I'm advised that the road resurfacing and lining works will be tomorrow (Friday) night and the road will be completely closed when the works are taking place. The works are due to finish early Saturday morning and the closure will be lifted as soon as the works are completed."
Cllr Powell added there is evidence of further oil spills higher up Upper Hale Road, but the oil has turned "sticky" and is not thought to present a hazard to motorists. This spill has also been inspected by Surrey Highways.