PLAY time is about to get a lot more exciting in an East Hampshire village as funding for a major revamp has been secured.
There will be no excuse for boredom in Greatham as close to £110,000 is being spent on a new playground next to the village hall.
The playground will have a combination of adventure, toddler and inclusive play equipment along with additional seating and furniture.
The plans by Selborne firm Sawscape include an accessible roundabout, trampoline and basket swing along with a fitness trail for teenagers.
The revamp has been pushed by a working group with £90,000 being secured from the South Downs National Park Authority early this year. That sum has been buoyed by a further £19,000 Community Fund grant rubber stamped by East Hampshire District Council Deputy Leader, Cllr Andy Tree.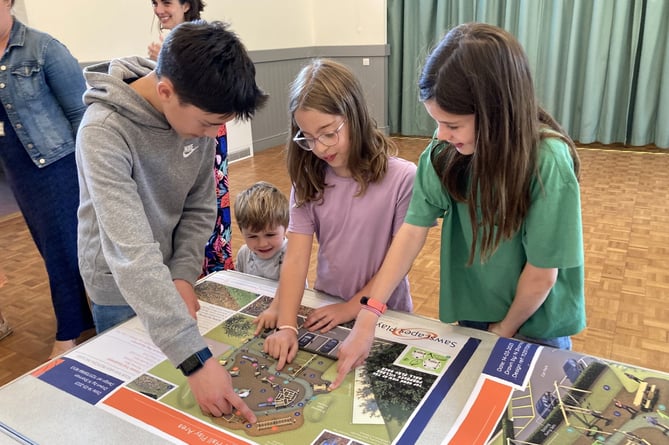 Greatham youngsters check out the plans for the play area at the July consultation event.
(Tindle/Paul Ferguson)
A ground survey needs to be completed before work can begin but working party member Susie Harris is thrilled that funding has been secured.
She said: "It's great that we've been successful with the funding but the council is now trying to establish if there might need to be some groundwork before it all goes in.
"They just want to make sure it's going to last for a long time rather than five years. But it's great we're here, especially as it's really been run by the parents."
Greatham Parish Councillor, Sarajane Bartlett, and her colleagues were pleased the application for additional funds was approved.
She said: "The additional funds will allow the play area to be expanded to include fitness trail equipment, ensuring that kids of 15 years and over can enjoy the space.
"The new equipment will ensure we have a great play area for many years to come and where possible we will also re-use items that are safe and functional to do so."