Thursley Common National Nature Reserve (NNR) was ravaged by a disastrous wildfire in May 2020. The inferno decimated the boardwalk, which provided visitors access to the reserve's most remote areas.
Shocked by the extent of the damage, local residents and individuals from farther afield rallied together to raise funds for the restoration of the area, particularly the boardwalk.
Elstead and Thursley parish councils collaborated on a fundraising campaign, the Preserve Our Reserve Fund, which in a matter of weeks generated more than £50,000 from public contributions, local parish councils, charities, and interested organisations.
The success of the campaign inspired Natural England, the reserve's owners, to develop plans to rebuild the boardwalk. Moreover, the two parish councils' request for £100,000 in Community Infrastructure Levy funds from Waverley Borough Council was granted, which helped make the project possible. 
The new boardwalk is now complete, with improvements that provide access to previously inaccessible areas of the reserve, including wheelchair accessibility.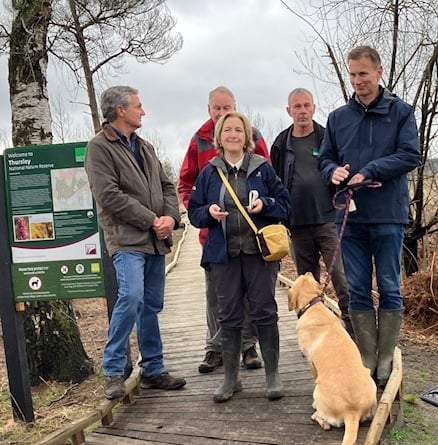 MP Jeremy Hunt expressed gratitude for the efforts of many individuals, but especially the local communities, in quickly rebuilding Thursley National Nature Reserve's boardwalk after the 2020 fire
(Pat Murphy)
On April 1, the boardwalk was formally opened by Jeremy Hunt MP, who is the patron of the Preserve Our Reserve Fund and the local Member of Parliament. 
The occasion was attended by a large number of those who had contributed to the fund, local borough and parish councillors, representatives from Natural England, and many members of the public.
James Mendelssohn, chairman of Thursley Parish Council, said: "The successful planning, funding, and rebuilding of the boardwalk in less than three years is the result of close collaboration.
"The fundraising effort demonstrated to both Natural England and Waverley the importance which local people attach to their access to the reserve and the value it provides in so many ways – exercise, enjoying nature, and mental health too."
He also thanked the newly-founded Friends of Thursley Common, who perform wardening activities on the reserve, and encouraged new members to join.
Edel McGurk, area manager at Natural England, emphasised the national significance of the Thursley NNR and the contributions of local volunteers who help manage the reserve.
Pat Murphy, chairman of Elstead Parish Council, echoed Mr Mendelssohn's comments on the speed, spontaneity, and magnitude of the public response to the fundraising campaign and thanked Mr Hunt for his assistance as the patron of the fund, particularly in raising awareness about the importance of the boardwalk to Ministers.
Mr Hunt expressed gratitude for the efforts of many individuals, but especially the local communities, in quickly rebuilding the boardwalk.
He also lauded the work of local volunteers in maintaining the reserve. After the formal opening, Mr Hunt and his family walked the length of the boardwalk from the Moat back to Thursley with the assembled company.