Residents at a care home in Haslemere delivered a box of 'Budget prayers' to the chancellor last week – just two days after he delivered his first spring budget.
South West Surrey MP Jeremy Hunt visited Shottermill House in Liphook Road to meet constituents as they took part in an activity designed to promote wellbeing and spiritual reflection.
As well as inviting Mr Hunt to join them as they created a special 'Wisdom Tree' featuring messages and prayers, residents also had the opportunity to ask Mr Hunt questions about the issues that affect them.
The visit followed an open letter written to the South West Surrey MP by the home in October 2022 after his appointment as Chancellor of the Exchequer.
In the letter, residents shared how they were praying for him – while the home also raised concerns about pressures affecting the social care sector, including funding and staff shortages.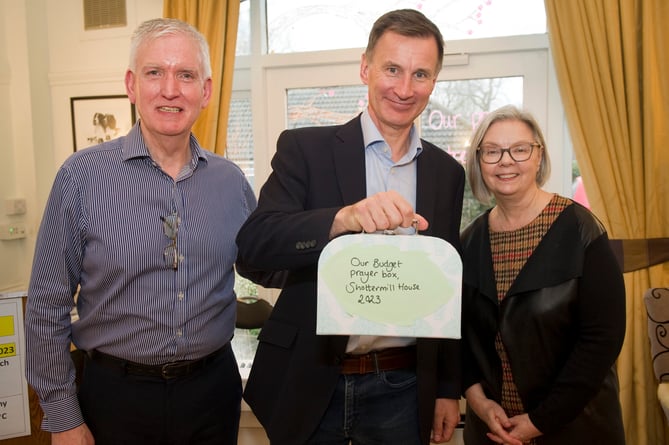 The Rt Hon Jeremy Hunt MP The Chancellor of the Exchequer during his visit to Shottermill House Care Home
(Steve Porter Pictures)
Christine, 85, who lives at the home, said: "As Christians, we are called to pray for our leaders and the responsibilities they hold. I am very glad Jeremy Hunt is taking the time to come and visit us and find out how we are praying for him and to hear our concerns."
Mike Beere, business manager at Shottermill House, said: "At Shottermill House, it is our privilege to provide excellent care for older people. We call on our government to honour its commitment to reform to social care, both through increased funding and investment in the workforce."
Mr Hunt spoke of his "pleasure" at meeting and chatting with people "with such a wealth of wisdom and life experience", after dropping in at the care home.
He added: "I thoroughly enjoyed my visit and learnt many things about the topics and issues important to the residents of Shottermill House."
Mr Hunt's first spring Budget as chancellor was met with general disapproval by the care sector, with several commentators saying care had been "completely ignored".
Martin Green, chief executive of Care England, said: "There is little of direct benefit for the care sector in this budget, and it was a missed opportunity to invest in the sector and ensure its long-term viability."