Readers will know from recent articles of my grave concern for Brightwell House and the terrible treatment the elegant Regency building has suffered involving extensive damage and removal of historic features, together with crass reconstruction of roofs and chimneys without any drawings nor, it'd seem, any prior agreements from the local authority (Waverley Borough Council heritage and conservation).
These latter items (chimneys and roofs) were expressly included in the listed building consent to be reconstructed and reinstated using agreed and approved drawings based on the historic photographic and historical physical evidence.
Regrettably, what has been built clearly demonstrates this is blatantly not the case.
In Crest Nicholson's press release dated December 12 (see www.brightwellsfarnham.co.uk/news) the managing director, Adrian Sims, says: "Coppa Club's expansion into Farnham is an exciting addition to the town's already impressive leisure offering.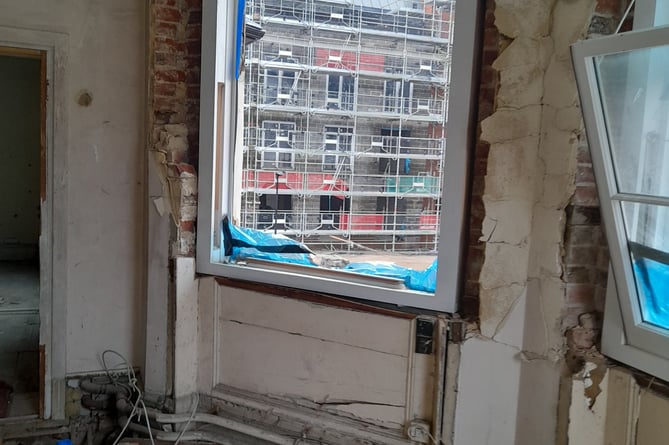 This is the result of Crest Nicholson's 'close work' with Waverley Borough Council conservation officers inside Brightwell House
(Mark Westcott)
"We have worked closely with conservation officers to carefully renovate Grade II listed Brightwell House and are pleased it will be brought back to its former glory at the heart of the town for the whole community to enjoy."
The statement is dated December 12, 2022. My site photograph is dated January 26, 2023 and, I believe, shows just what that close working relationship appears to have achieved to date.
It is deeply worrying and greatly distressing that one of Farnham's strategically important Grade II listed buildings appears to have been treated in such a cavalier and potentially illegal manner.
If this truly is the result of working "closely with conservation officers to carefully renovate Grade II listed Brightwell House", I shudder to think what the careful renovations might have been like without working closely with Waverley's conservation officers.
We understand repair works are expected to begin within the next few months.