Shoppers are being enticed back to Farnham with a competition to win a two-night stay for two and breakfast at The Bush Hotel plus, £1,000 to spend at participating Farnham businesses. 
The Treat Yourself in Farnham campaign follows the reopening of West Street which was closed while South East Water completed an extensive pipe replacement programme.  
To enter the competition, shoppers will need to:  
Take a selfie in or outside their favourite establishment in Farnham.  
Post the selfie on Instagram or Facebook with the hashtag #treatyourselfinfarnham 
Tag the specific shop/business in their post. 
Take a screenshot of their post and email it to

[email protected]

 
Councillor Alan Earwaker, mayor of Farnham, said: "This is an incredible competition where one lucky person is going to win a stay in a superior room at the fantastic Bush Hotel plus £1,000 to treat themselves at any of the participating businesses. 
"We know people chose to shop elsewhere during the roadworks but we want to send out the message that we are very much open and that our businesses are waiting to welcome back customers and clients with open arms.  
"Farnham is renowned for its independent businesses, wonderful independent department store, high street names and some top places to eat and drink.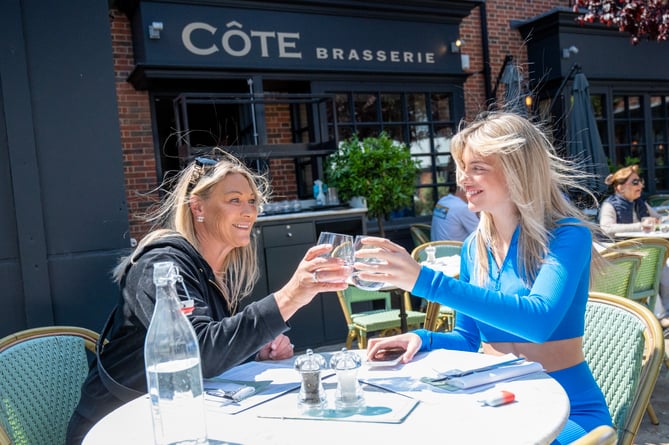 Alanta and mum Karon enjoying lunch at Cote Brasserie in Lion & Lamb Yard
(FTC)
"There are so many places you can go to treat yourself in Farnham, whether it be a delicious ice cream, afternoon tea, a new pair of shoes, the latest bestseller or something for your home. 
"The choices are endless which makes the competition accessible and open to everybody." 
To thank the community for their patience during the roadworks, South East Water is funding the Treat Yourself in Farnham campaign which is being led by Farnham Town Council. 
The stay at The Bush has been kindly donated by the hotel.  
To encourage shoppers from outside Farnham to rediscover the town, the campaign will include an advertising and social media campaign. 
Alanta Richards, Farnham teenager and semi-finalist in the Miss England competition, is featuring in the campaign. 
Other customers of Farnham businesses are also being asked to help promote why they treat themselves in Farnham, and encourage people to enter the competition.