September has seen the opening of a number of new eateries, as anticipated in my previous reports. Saying that, a couple expected to have started trading this month haven't opened yet and they haven't responded to my recent emails.
B'elicious Crepes opened at number 6 South Street in the former cobbler's shop on Friday, September 1. Friends tell me they were busy and there wasn't any room there when they tried to visit last week so it looks as if they've found a niche market.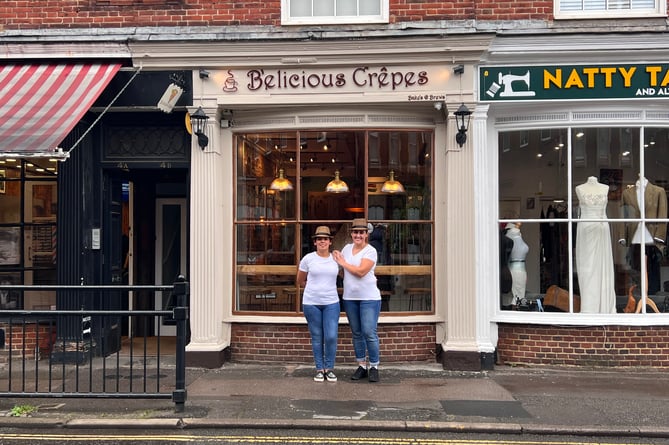 Nina and Koula outside their B'elicious creperie in South Street, Farnham
(Nina Needs)
Valentino's opened on Friday, September 15 in number 17 Lion & Lamb Yard in half the former Colony Interiors shop, the space more recently used to display locally-created craft items, Making Matters.
The business owner Albert Recica has made an incredible job of transforming the space into what one can only call a 'Little Italy'. You have to visit just to experience the space and atmosphere.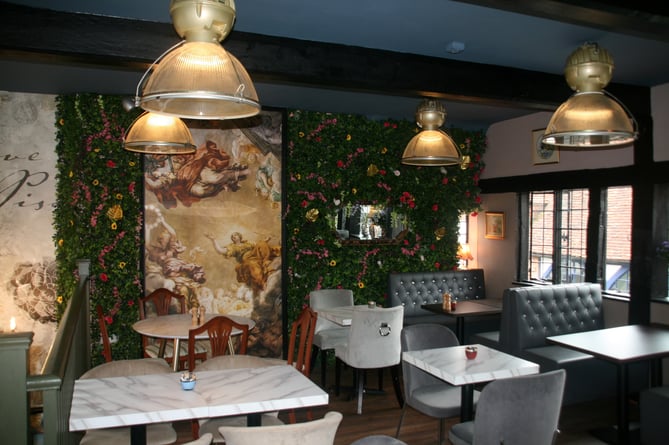 Valentino's first floor dining room overlooks Lion & Lamb Yard below
(David Howell)
There is an Italian intensity both on the ground floor and first floor created by the flooring, wallpapers, lighting and retro furniture. When I visited, they were playing Italian music, well known operatic, in the background adding to the relaxed feeling but it doesn't impose, just adds to the ambiance.
At the door Albert and his two members of staff welcomed many of the customers trying the place for the first time. The plan is for all the food to be made in the restaurant from ingredients from Albert's original home in north Italy.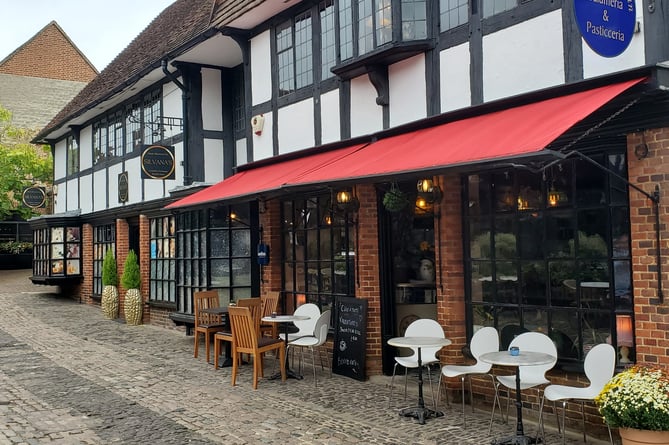 Valentino's in Lion & Lamb Yard, Farnham
(David Howell)
The feedback from everyone who came and went while I was visiting was very positive. Albert currently only opens during the day but intends to open in the evenings when his alcohol licence is determined. He was very complimentary of those trading in the Yard for their support and of the residents of Farnham. He is here to stay.
In Downing Street, the Bear restaurant has gone. Indrit Arapi, otherwise known as Edi, has taken over and re-branded the restaurant as the Downing Street Brasserie. It's so much brighter and airer than before.
Edi, who ran The Queens Head at Dogmersfield near Crookham Village, Fleet, and his partner opened the Brasserie on Monday, September 11. He believes personal service is essential and was serving food to one of the tables while I was there.
The food certainly looked appetising, and he confirmed he saw the restaurant as edging towards being up-market at a competitive price. Many of his customers at The Queens Head were from Farnham so he is looking forward to reacquainting himself with them.
He told me that in his opinion the success of a good restaurant is down to the food, the service, the atmosphere and the detail. I'd give them a try; I don't think you will be disappointed.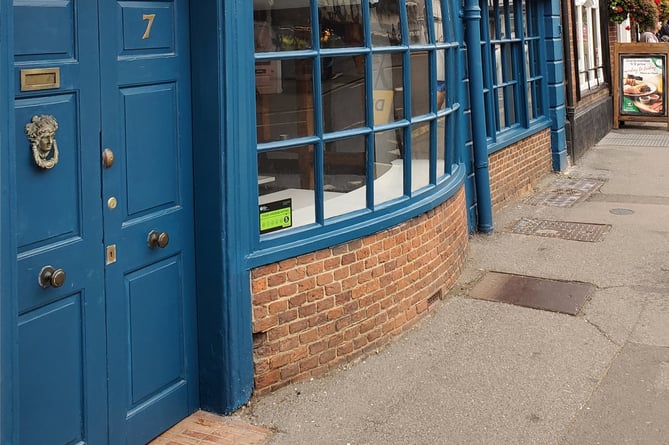 Serina's Wine Bar in The Borough, Farnham
(David Howell)
Serina have taken over the former Bloom premises at 7 The Borough and are finalising their fit-out. Last week I managed to speak to Russell, one of the Heaven's Kitchen managers, responsible for the venue and found out they are scheduled to start soft openings with invited guests on Wednesday, October 4, then starting with a half-capacity opening for allcomers the following weekend. I would suggest you book.
He told me there will be a wine and cocktail bar downstairs, a restaurant upstairs, and the freehouse premises will be serving beers and lagers as well. Food will be Italian, predominately pasta and fresh fish. Their goal is to provide high-class quality food and service at easily-affordable prices.
When they have settled down inside and purchased some heaters, they will be opening the reasonably large patio garden to the public. I am not sure at all about the blue painted render to Serina's, being a listed building. Do they need permission to paint it that colour?
We are already being spoilt for choice and I understand there are at least two more eating places to come shortly, now in the final legs of being fitted out – both Silvero's and The Luxe Restaurant & Bar in the Lion & Lamb Yard. 
Silvero's adjoins Valentino's to the Waitrose side and The Luxe is opposite Coffee Diem. Hopefully more on these two next time.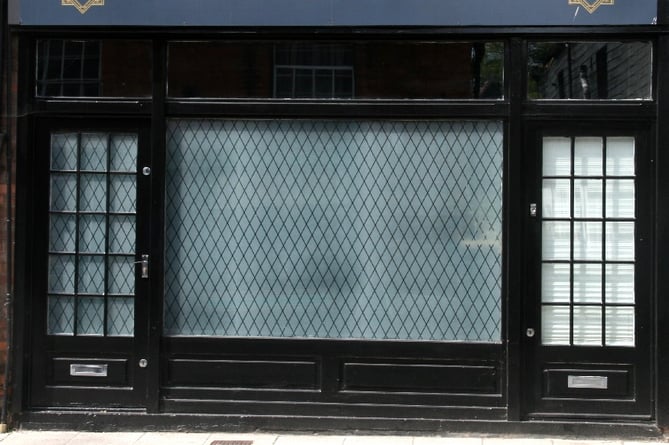 The Mixing Glass in Downing Street
I contacted the Mixing Glass team hearing rumours they had closed down. The new owners, Paul and Dave, have told me they have taken a new lease of the premises at number 8 Downing Street and are in the process of re-branding the site with a view to open in the next week or two. They reassured me the premises will remain as a cocktail bar.
Redgrave Rooms, Bush Hotel
Thursday last week saw the launch of the Redgrave Rooms at the Bush Hotel. More next week.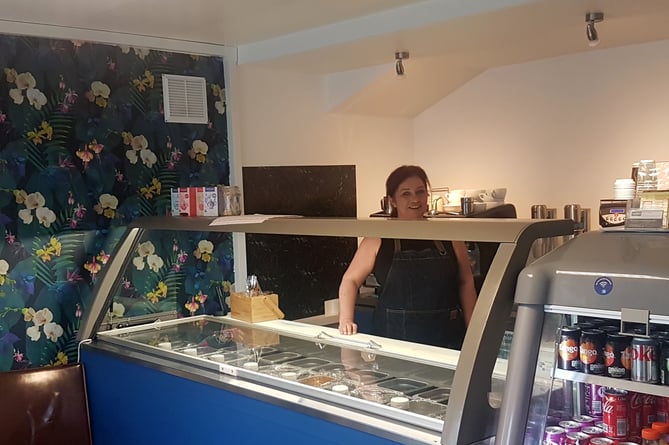 Lulu's cafe only recently opened in Badshot Lea but has sadly had to shut up shop already
(David Howell)
On a more disappointing note, Lulu's coffee shop, formerly at 65 Badshot Lea Road, has had to close because of unforeseen overhead costs. Lulu is, however, continuing to operate a buffet and events food service from home. She is contactable on 07738 492841.
Also, I noticed the Farnham Wholefoods shop at number 44 Downing Street has closed and a pop-up shop selling shoes, handbags and clothing at below cost price has opened, or is about to. 
More to come when I have spoken to the business owner.
I have been told that Cook are relocating to Seven Stars House in East Street.