MOST people might describe jumping out of a plane as terrifying, but not Charles Wylie OBE.
The former Royal Navy commander decided he would celebrate his 90th birthday by jumping out of a plane – and that is exactly what he did last weekend.
Charles did the jump in support of Alzheimer's Research UK and in honour of his wife, Jean, who has been living with Alzheimer's for nine years.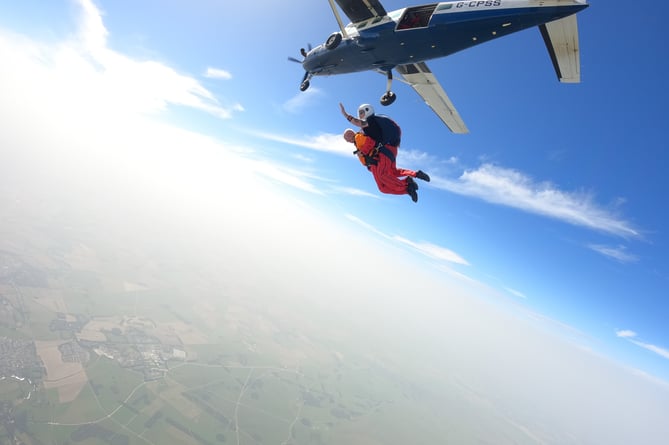 "Alzheimer's is like grieving for someone who is dead, who is still alive," said Charles.
"I get the occasional glimpse of Jean as she was which is stimulating and heartbreaking at the same time." 
The Red Devils took Charles up in a plane to 12,000 feet where he and his instructor leapt out over the rolling Wiltshire fields. 
They plummeted down 4,000 feet in a free fall for 45 seconds at 120 miles per hour. With a sharp jolt, the parachute was pulled and Charles was soaring over a sea of green. 
It was then that he began to sing: "I'm on the top of the world lookin' down on creation/ And the only explanation I can find/ Is the love that I've found, ever since you've been around/ Your love's put me at the top of the world."  
The Carpenters' words were a fitting tribute to Charles' jump and his loving 65 years of marriage to Jean. 
Charles said the experience was wonderful and that the jump inspired people to donate £1,000 on the day.
So far he has raised more than £21,000 with gift aid. But more is needed. Charles is asking for your help to help raise as much money as possible for research. 
Charles said: "Although it will not benefit Jean, whatever you feel you can afford could help to save billions of folk from this dreadful disease and allow them a joyful life.
"Please be as generous as you feel you can be, and help to rid mankind of this terrible affliction.
"If you can, please pass this on. Let's reach the world."