A major engineering solution to stop HGVs striking the A325 Wrecclesham bridge has been all-but ruled out by Surrey County Council.
The Farnham Infrastructure Programme (FIP) team have considered several proposals to help reduce the risk of bridge strikes by HGVs, last Friday's Farnham Board meeting was told.
But the more significant engineering solutions – such as digging the A325 lower below the bridge and constructing a new 'perpendicular bash beam' at a 90 degree angle to the A325 – have been dismissed by council officers and consultants Atkins as impractical for funding and feasibility reasons.
The meeting was told the bridge had been struck 51 times in 11 years, and although this was not enough to make it the most-struck bridge in Surrey (which is in Hersham), it was the "most concerning" because the angle of the bridge against the road increases the risk of HGVs overturning.
The Farnham Board, comprising councillors and MP Jeremy Hunt, heard Surrey County Council has already enhanced the signage approaching the bridge, has cut back foliage giving drivers more advanced sight of the bridge, and has installed new over-height activated signs.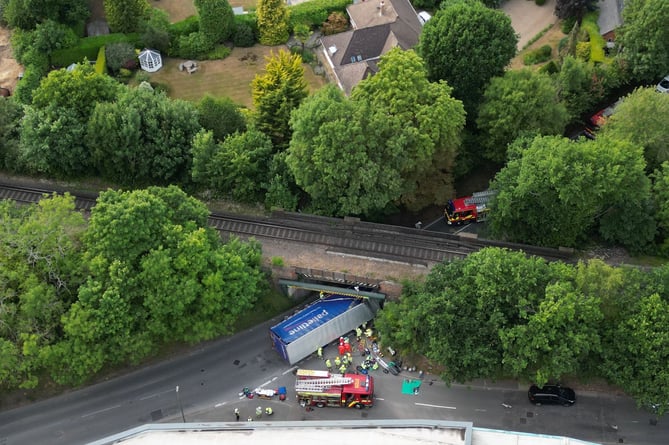 Emergency services on the scene at the A325 Wrecclesham railway bridge after an HGV struck the bridge and overturned onto an oncoming car in July 2022. The female occupant of the car was eventually cut free from her vehicle and suffered serious but non-life threatening injuries.
(Lee Moran)
Surrey is also in discussion with Highways England to amend diversion routes from the A3 away from Wrecclesham, and Network Rail has been granted a permit to paint new yellow chevrons on the bridge in early July.
However, a proposal to lower the A325 under the bridge would cost upwards of £8.2 million and have implications for the Weydon Lane junction, while the option of installing a new 'perpendicular bash beam' would again present issues for the Weydon Lane junction.
Such an option would likely require Weydon Lane to be made one-way or have traffic lights installed, the meeting was told.
As a result of these difficulties, Chris Greenwood of highway consultants Atkins, recommended not to progress these options – instead expressing hope that the steps already taken by the council, and the repainting of the bridge, would reduce the risk of bridge strikes.
Mr Greenwood did, however, apologise for the crude nature of his sketch of the 'bash boom' (pictured above) and admitted the county council had not employed structural engineers to explore potential solutions to Wrecclesham's bridge woes.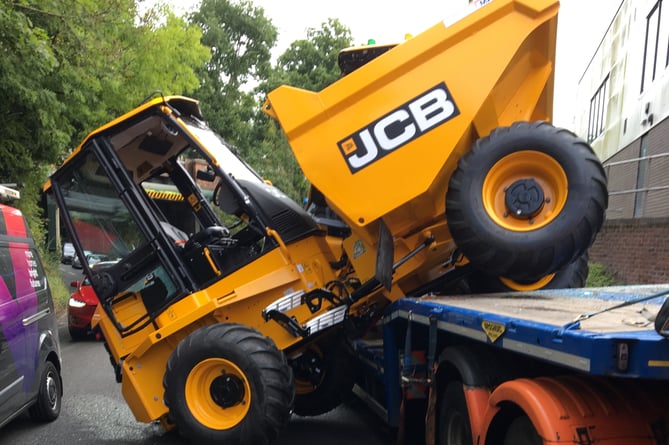 A JCB was knocked off the back of a trailer into incoming traffic after a collision with the A325 Wrecclesham Road railway bridge in September 2022
(David Cole)
Another nail was also hammered into Farnham's pedestrianisation dream at last Friday's meeting after councillors agreed to drop plans to pedestrianise East Street between the Brightwells and Woolmead developments.
And the meeting heard the proposed pavement widening and reversal of parts of the one-way system could INCREASE journey times for motorists through the town by as much as nine minutes.
This contrasts with the initial 'car-free' vision for Farnham town centre long-proposed by MP Jeremy Hunt and others such as architect Michael Blower, town planner Jim Duffy and former town council leader John Neale.
In reality though, the feared nine minute delays could be even worse as Surrey's estimates are based on Farnham's HGV ban working, as pointed out by Councillor Catherine Powell (Farnham Residents, Farnham North).
Instead, Cllr Powell complained the Castle Street and Upper Hale Road weight restrictions – one of the few 'quick wins' introduced by the four-year-old project – are failing, with "20 lorries per hour still using Upper Hale Road".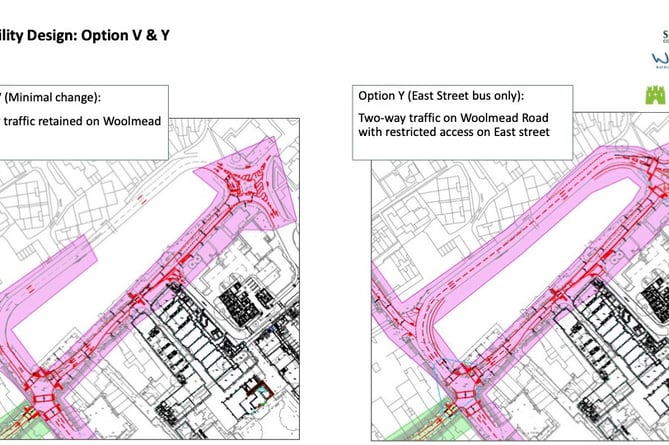 The two options for the East Street area of Farnham Town Council, presented to last Friday's FIP board meeting
(SCC)
The FIP board meeting was shown the modelling results of two possible options for East Street between the Brightwells and Woolmead developments, having agreed to explore these at its last meeting in April.
'Option V' proposed only "minimal" change with one-way traffic retained on Woolmead Road and East Street, while 'Option Y' proposed two-way traffic on Woolmead Road with access for buses only on East Street.
The models combined these options with the already-approved changes to the town centre – allowing right-hand turns out of Castle Street and Waggon Yard car park, plus loading bays, wider pavements and improved crossing points throughout the town centre.
Board members were told these changes will create a more pleasant town centre for pedestrians and allow shoppers driving from south and north Farnham to avoid the one-way system when parking in the Hart and Waggon Yard car parks.
However, the modelling found those driving through the town centre will face significantly longer journeys as a result of the changes – with the longest delays forecast for those travelling from east to west and vice-versa.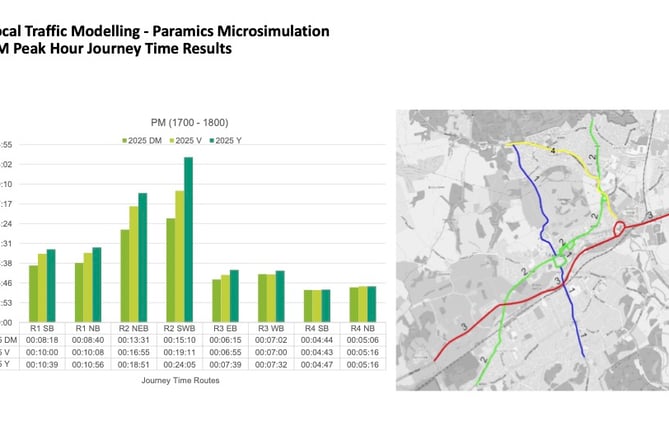 The modelling showed both options for East Street would increase journey times through the town centre – with the pedestrianisation of East Street between the Brightwells and Woolmead developments potentially adding nine minutes onto journeys from east to west and vice versa
(SCC)
A journey between Wrecclesham Hill and Heath End from 5pm to 6pm currently takes around 13.31 minutes north-east bound and 15.10 south-west bound.
Option V would increase this to 16.55 north-east bound and 19.11 south-west bound. But under Option Y it could increase to 18.51 north-east bound and 24.05 south-west bound – the latter representing a potential nine minute increase.
Journey times from north to south, and vice versa, across the town centre will increase by one to two minutes under Option V and slightly more under Option Y. And journey times on the A31 Farnham Bypass could increase by around one minute under Option V and also slightly more under Option Y.
Chancellor and South West Surrey MP Jeremy Hunt, whose pollution summit launched the infrastructure programme, told the meeting he would "lean towards a bolder approach" and "if we don't make big changes to the town centre, we will not reduce pollution in the town centre".
But he added he "understands the need to be pragmatic".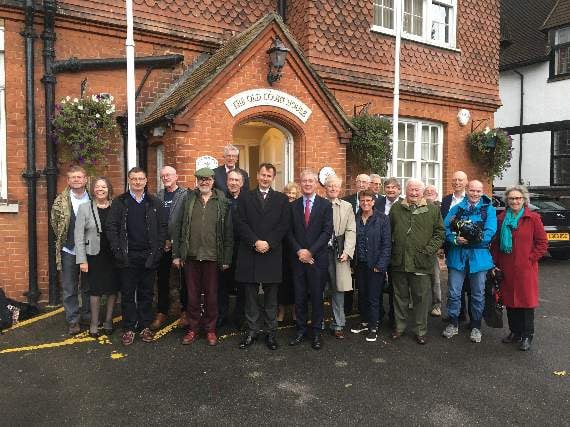 The Farnham pollution summit was convened by MP Jeremy Hunt at The Old Court House, Tindle Newspapers' Farnham headquarters, in October 2019
And after little debate – and no mention of the potential benefits of pedestrianisation – board members nodded through the "minimal" Option V.
Chris Greenwood, of highway consultants Atkins, said the town centre changes would "inevitably reduce the capacity for vehicles" but warned against "focussing too much on traffic".
"We have to remember we will have all the benefits for pedestrians," he added. "Evidence elsewhere also implies a significant reduction in traffic levels can occur when delivering changes and people have a far wider range of behavioural responses than traditionally assumed."
County council leader, Cllr Tim Oliver (Conservative, Elmbridge), said: "We recognise the changes to Farnham will result in less road capacity, but will be beneficial at reducing air pollution and make it safer to walk and cycle. It will change the way people travel around town.
"If the increased journey time was 30 minutes it would be a concern. But broadly speaking, there won't be significant increases in travel time."
MP Jeremy Hunt added: "This is excellent modelling, and it doesn't pick up how habits could change. My initial reaction that journeys could be five to ten minutes longer as a bit alarmed. But the key point is people may chose to not make that journey."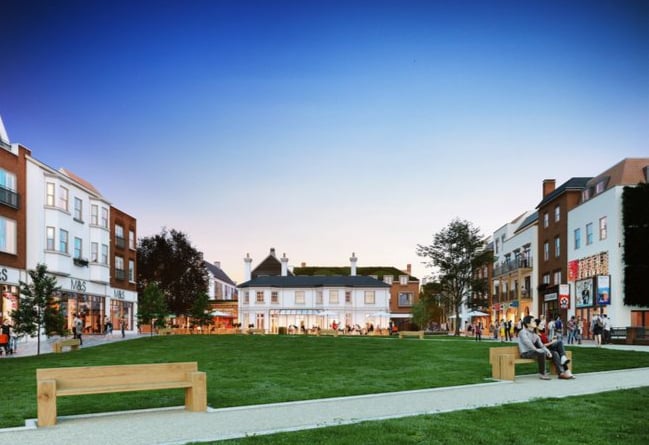 Farnham's Brightwells Yard development is likely to open to the public this autumn – but there will be no improvements to Farnham town centre's roads until early next year
(Tindle)
Cllr Andy MacLeod (Farnham Residents, Farnham Central) advised any works to the town centre are unlikely to take place before this Christmas – meaning there will be no improvements to the town centre roads, Royal Deer junction or East Street prior to the Brightwells Yard development's anticipated opening this autumn.
Cllr MacLeod added it is more likely work will begin "early next year" and said "mitigation to minimise the disruption to town centre businesses is extremely important".
Cllr Michaela Martin (Farnham Residents, Farnham South) agreed, adding retailers "need this mitigation built into the plan", and not left as an after-thought, as was the case with South East Water's recent closure of West Street.
Elaine Martin, Surrey County Council's FIP project manager, said the team will "start engaging with businesses in the autumn".
The next FIP board meeting is scheduled for September 15.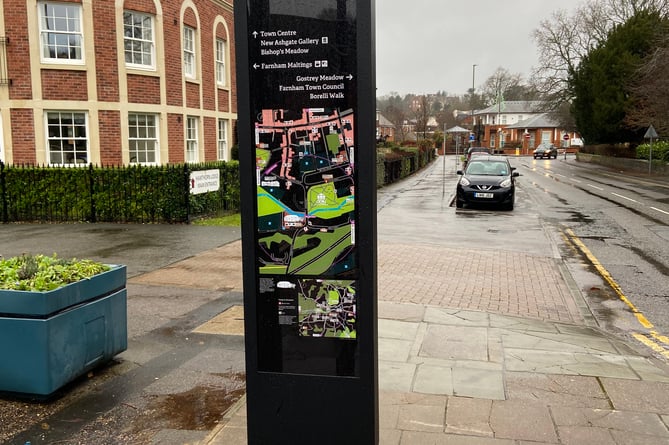 One of the many wayfinding 'totems' to pop up in Farnham this year. These have been installed throughout the town centre by carbon neutral company Trueform, which has installed similar signs elsewhere in Surrey, in Guildford, Woking, Redhill, Dorking, Epsom and Camberley
(Daniel Gee / Farnham Herald)
Other newsworthy outcomes of last Friday's FIP board meeting included:
11 of Farnham's 15 totem way-finding signposts have now been installed. Discussions are still ongoing with Network Rail to seek permission to instal a totem on land at Farnham station.
Farnham's new 20mph limits in Weydon Lane, the town centre and Upper Hale Road will now feature traffic calming 'tables' (raising the full width of the road) not 'cushions' as initially proposed. More roads could see 20mph limits introduced as a result of Surrey County Council's speed limits review, with a report going to a cabinet meeting next month.
Perhaps more significantly, Surrey's cabinet meeting on June 27 will also be asked to approve a capital budget for the town centre improvements, county council leader Tim Oliver told the meeting.
Surrey's FIP project team is "pushing hard" to ensure the pedestrian access bridge to be built by Crest Nicholson connecting Borelli Walk to the Brightwells Yard development is wide enough to safely accommodate cyclists too. The team hopes to see revised plans coming forward for the new bridge soon.
The FIP team has undertaken surveys on the proposed new Water Lane roundabout and will next be consulting "disability and localised business groups" on its plans.
An on-demand minibus public transport service will be launched in Waverley, as well as in many other areas across Surrey, this September. County leader Tim Oliver said: "We have to be realistic. Unless there is reliable, sustainable public transport, it will be very difficult to get people to change behaviours."
Farnham's new Active Travel Working Group, including local councillors and stakeholders such as the Farnham Cycle Campaign, are expected to agree priority routes for the town's new Local Cycle and Walking Infrastructure Plan at its meeting this July. Capital funding has not yet been secured, but a bid to the Department for Transport is being prepared. Delivery of Farnham's new pedestrian and cycle tracks is expected in 2024/25.
The FIP team is still waiting to hear back from the Treasury on its bid for funding for improvements to the A31 Hickleys Corner junction, which could potentially include a new slip road connecting the A31 to Firgrove Hill.