An outpouring of emotion has greeted the news that long-serving Petersfield Post chief reporter Jon Walker has been diagnosed with terminal cancer.
A cold, wet evening did not deter more than 100 people from attending a candlelit vigil in Petersfield Square to wish Jon Walker well.
Petersfield town crier Faye Thompson invited friends to share their thoughts about Jon.
It followed the town meeting with attendees also being encouraged to take part by town mayor Councillor Peter Clist.
Many kind words were said during the evening – how he helped a family at a difficult time, supported Shine Radio and Petersfield Rugby Club in many ways and how he was instrumental in saving the silver maples in the Square from felling in 2015.
"He is the voice of Petersfield," said one vigil attendee.
Another said: "He is such a kind-hearted man."
Other well-wishers spoke of a "straight-talking" but "wonderfully kind and witty" man blessed with a "wicked sense of humour" and "great insight".
"He was one of the first people who made me feel welcome in Petersfield," said another well-wisher with others calling him "great fun" and "kind in many ways".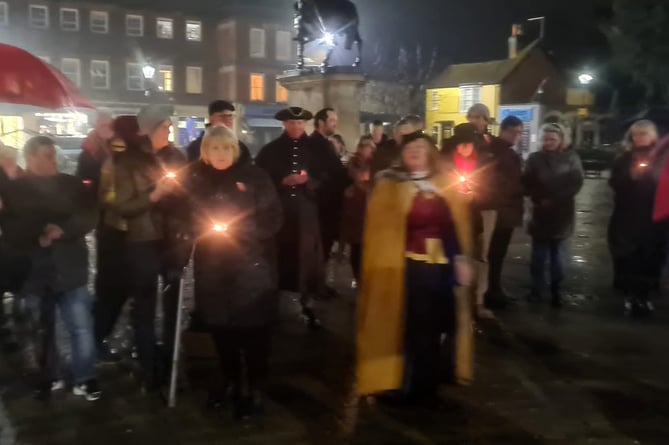 Town crier Faye Thompson was one of around 100 people to attend the vigil
Close friend Beth Svarovska said: "I hope he knows we're here for him, sharing his pain – we're all here, in love for his family as a community. Clearly he's affected so many of us in different ways."
"He loves this place," said Rev Will Hughes, recalling the gentle manner Jon pressed him for stories during the height of Covid.
Another recalled Jon's ability to think on his feet while Joff Lacey recalled the relationship he built up with Jon after asking the reporter to help with Shine Radio podcast updates.
He said: "It was a nervous start as he had a scrappy piece of paper with some notes on but we've done about 150 shows and Jon has been on about 140 of them.
"He always thought that whatever you do, do it to the best of your ability and do it for the right reasons."
Many people also left messages of support on Facebook after details of the vigil were posted on the social media website.
Petersfield Rugby Club was packed last week for the reception of Jon's marriage with Camilla.