Phyllis Tuckwell's plans to build a new hospice on its existing site in Farnham are progressing well, with planning permission having been granted in April, and staff moving off-site from August.
Demolition of the existing building is planned to take place this November/December, and building work will start from January 2024, with the charity aiming to move into the new hospice two years later, by January 2026.
Sarah Church, chief executive at Phyllis Tuckwell, said: "The number of people needing our expert supportive and end-of-life care is already high and, due to our ageing and growing population, is set to increase substantially.
"By 2040, deaths in our community will have risen by 25 per cent, and the number of people needing palliative care will have doubled by 2060. Our existing building has served us well, yet much of it was built more than 90 years ago. It is dated, poorly laid out and costly to run.
"The new hospice will transform the way in which we work, helping us to care for 3,000 people a year by 2040."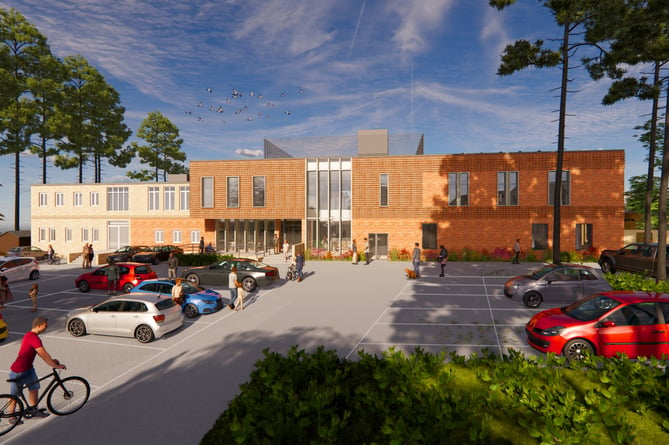 How the new Phyllis Tuckwell Hospice building will look
(PTH)
The new hospice will include 18 en-suite inpatient rooms, a new wellbeing suite, an education suite, a café, family rooms, an exercise suite and a raft of new clinical and consulting rooms, and will be surrounded by beautiful, landscaped gardens. 
Phyllis Tuckwell will continue to offer its specialist services throughout the period of the build, from alternative locations, ensuring it is still able to care for its patients and their families.
Its In-Patient Unit services will be temporarily relocated to a new ten-room wing at Kings Lodge care home in Camberley, recently fitted out by the owner to suit Phyllis Tuckwell's needs. 
Much of its community support will be able to continue without any change, managed by its community teams working from its existing Beacon Centre site in Guildford and a new office facility at Headway House in Farnham town centre, where its support staff will also be located for the duration of the build.
Outpatient appointments and Living Well sessions will continue to run at the Beacon Centre in Guildford.
Mrs Church added a 'farewell afternoon' is being planned to say "a proper goodbye" to the old hospice.
This will take place on  Thursday, August 31 between 2pm and 5pm at the hospice. All are welcome.