Alan Earwaker has become the first mayor in Farnham Town Council's history to be elected for a third consecutive term – with publican and musician Brodie Mauluka elected deputy mayor.
Cllr Earwaker has served as Farnham's civic leader since 2021, and received the chains of office for a historic third time at last Thursday's full council meeting – the first since the May 4 elections.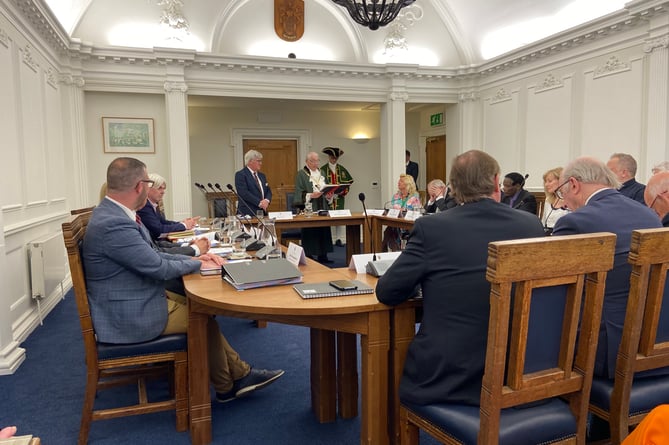 There was a packed council chamber and public gallery at Farnham's town hall on Thursday, May 18 as Alan Earwaker was confirmed as mayor for a third term, and new councillor Brodie Mauluka was sworn in as his deputy
(Daniel Gee)
He will be supported by Cllr Mauluka, landlord of The Plough pub in West Street and front man of popular covers band Brobed Stills, who just days after winning a seat on the council was elected deputy mayor by councillors.
The election of mayor and deputy was the first item of business at last week's mayor- making meeting, with proud friends and family of the mayor, deputy and many new councillors watching on from the public gallery.
Cllr David Beaman was also re-elected joint leader of the town council, with responsibility for the Farnham Infrastructure Programme, and will share the role of leader with another new councillor, Graham White.
The mayor, deputy and both joint leaders all represent the Farnham Residents, who won all but two of the town council seats on May 4.
Two Liberal Democrat councillors, Mark Merryweather and Matthew Brown, make up the numbers – while it is the first time in Farnham Town Council's history that not a single Conservative candidate has won a seat on the council.
Farnham town councillors elected on May 4 (all Farnham Residents unless stated):
Badshot Lea and Moor Park: Chris Jackman, Mark Merryweather (Lib Dem).
Bourne: Michaela Martin, George Murray.
Castle: Alan Earwaker, George Hesse.
Hale & Heath End: Sally Dickson, Tony Fairclough.
Farnham North West: David Beaman, Graham White.
Shortheath & Firgrove: Brodie Mauluka, Kika Mirylees.
Weybourne: Matthew Brown (Lib Dem), Andrew Laughton.
Wrecclesham & Rowledge: John Ward, Tim Woodhouse.