At the 11th hour on the 11th day, Farnham Great War Group remembered Private Joseph Parsons who is buried in Farnham's West Street Cemetery.
The group placed a battlefield cross and picture of Joseph at his grave before holding a two-minute silence.
He was born in Upper Hale in 1890, the son of Sam and Mary Jane Parsons. In 1891 the family lived at the Folly, Folly Hill. By 1911, Joseph was a "horseman" and late a labourer.
He enlisted in the Royal Berkshire Regiment in November 1915. At this time he was 5 feet 5 1/2 inches tall and weighed 139 pounds.
Private (Pte) Parsons transferred to the Machine Gun Corps in March 1916 and fought in the Battle of the Somme. On September 4 he was wounded in the head near High Wood. After hospital treatment he returned to duty on September 20.
The following June, during the Battle of Messines, he received a gun shot wound to his right shoulder.
He was evacuated to a Leeds Hospital and died of his wounds on July 1, 1917. He was buried in Farnham Cemetery on July 7, 1917.
The Farnham Great War Group pay tribute to a different 'Tommy' each year over the Remembrance weekend.
They also make occasional trips to France and Belgium to pay their respects to local lads who gave their lives overseas.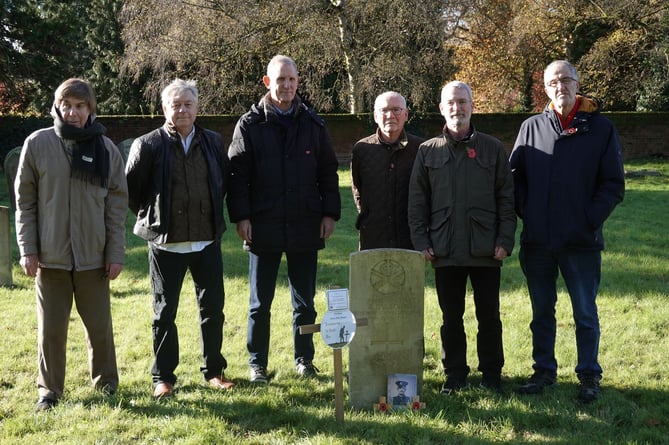 The Farnham Great War Group at the grave of Private Joseph Parsons in West Street on Armistice Day
(Farnham Great War Group)
The Battle of Messines explained...
The Battle of Messines, fought from June 7 to 14, 1917, was a pivotal moment in the First World War. Strategically located south of Ypres, Messines Ridge had been under German control since 1914, offering them a commanding view of the Ypres salient.
General Sir Herbert Plumer orchestrated a meticulous plan for the assault, combining detailed planning and thorough training of forces. The element of surprise was executed with a dramatic touch – 19 mines detonated beneath the Messines Ridge at 3.10 am on June 7, a blast audible in London. The explosion caused widespread chaos among German defenders.
Artillery played a crucial role, carefully co-ordinated with air reconnaissance to target German battery positions. A creeping barrage accompanied advancing infantry, while a lifting barrage struck German positions further ahead.
Plumer's forces, comprising New Zealand, Irish, Australian, Canadian and British troops, achieved remarkable success, capturing objectives within hours and taking 7,000 German soldiers prisoner. This contrasted with the earlier struggles in Ypres, where General Sir Douglas Haig's initial choice, Hubert Gough, faced setbacks. 
Plumer's bite-and-hold approach, combining artillery, mines, air power, infantry, and tanks, marked Messines as one of the most successful battles of the war.