Rose Knowles was born in Neukloster, a small town in northern Germany in 1923, and died in St Albans in 2023, three months after celebrating her 100th birthday. 
She was one of the last of more than 15,000 German war brides who met and married British soldiers or civilian members of the Control Commission after the end of the Second World War, when Germany was occupied and divided into four zones, each ruled by one of the Allies – Britain, France, the United States and the Soviet Union. 
Rose was the second of three sisters, with a much younger brother. Her paternal grandfather was a German Lutheran pastor, as were her uncle and other members of the family going back to the time of the Reformation. 
Her father was a grammar school teacher, later university professor. Her mother was the daughter of a successful pharmacist, with a shop in the centre of the town of Waren in Mecklenburg. 
Rose went to school in Rostock and then in Kiel in Schleswig Holstein, where the family moved in 1935. 
She left school in 1939 to work for several months on a farm and in a factory, as all school leavers in Germany were required to do at the time, before taking up her university place in 1940. 
During the war, she studied German, history, English and philosophy at the universities of Kiel and Munich, graduating in 1944. 
After the end of the war, she trained as a grammar school (gymnasium) teacher. She met her future husband, Charles Ingram Knowles, an education advisor for the Control Commission in the British Zone of occupied Germany, when she was employed to give him lessons to improve his German. 
He had been one of the founders of the youth hostel movement in Britain in the 1930s. 
They married in 1948 and stayed in Germany for a further four years, before returning to Britain at the end of 1952. 
Their son, Christopher was born in Liverpool in 1953. Rose's two stepdaughters, Bridget and Johanna, Charles Ingram's children by his first marriage, sadly predeceased her.
The family moved to Virginia Water in Surrey in 1953, when Charles Ingram was offered a job in London working for the City and Guilds of London Institute and then as an editor for the educational publisher Evans Brothers. 
He also gave lectures on the British constitution and public administration at a further education college. 
Rose returned to teaching part time in 1957 when her son was old enough to go to school and her German qualifications were formally recognised by the British Department of Education. 
She taught German at Slough Girls' Grammar School – travelling there from Virginia Water on a small 50cc moped – and at the Welsh Girls' School, later renamed St David's School, in Ashford, Middlesex. 
In 1971 she decided to work full time and was offered a job as head of German at Farnham Girls' Grammar School and subsequently at Farnham Sixth Form College. She and her husband moved to live in Farnham.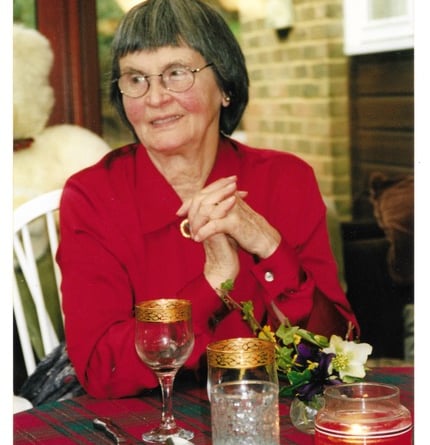 Rose was a beloved teacher and centenarian, cherishing moments with her great grandchildren amidst the challenges of the pandemic
(Supplied by family)
Charles Ingram died, aged 100, in 2001 and Rose moved into a care home in St Albans in 2020, to be nearer her son and his family.
Rose was a dedicated and inspiring teacher. She kept in touch with many of her former colleagues and students until the end of her life. 
One wrote in a message for her 100th birthday that she remembered not only "how brilliantly she taught; [but] in addition how successful she was in widening my curiosity and understanding in many areas outside Germany and its culture, such as the British constitution and the visual arts. 
"But as important as all that was the great warmth and personal interest she always lavished on those she cared about."
After Rose retired from teaching, she worked with the author Susie Harries on her highly-acclaimed biography of Nicholas Pevsner, translating and interpreting his letters. 
Susie wrote after she heard that Rose had died: "I will always be grateful to her for transforming the Pevsner book – it quite truly could not have been written without her.
"My German simply wasn't adequate and it needed her determination and very hard work to get the letters into any kind of shape at all, not just translating, but interpreting them, and filling some of the very many gaps in my knowledge of German culture and German life."
Rose and her husband were active members of many local Farnham societies including the music club, the Farnham Society and the Arts Society. 
After her husband died, Rose joined the Ramblers, played the recorder with a group of friends and was an active member of the Farnham u3a, both as a teacher and as a student. 
She was a keen gardener until she fell outside one day in October 2020. She recovered but decided she was no longer able to live at home on her own and moved to St Albans.
Her last years were restricted by the Covid pandemic, but she lived to see and meet her two great grandchildren, born in January 2021 and December 2022, and celebrate her 100th birthday with her family at Clare Lodge Care Home in St Albans.
The funeral service will be held at St Mary's Church in Marshalswick, St Albans, at 1pm on Monday, June 26.
By Dr Christopher Knowles