Portraits painted by two pupils at Bedales Prep, Dunhurst have been selected to go on display at the Royal Academy of Arts (RA) Young Artists' Summer Show.
Block 1 (Year 7) pupil Mylo Acevedo-Scott submitted his portrait of Tom from VIP Nails in Petersfield, which he created for Bedales Prep's Portrait of Petersfield project that was displayed at the town's railway station in January.
Group 1 (Year 4) pupil Xander Ward submitted his portrait of Bedales Prep School business manager Wendy Hudson, which he produced as part of an art challenge to create a portrait of a member of the school community who deserves to be celebrated.
Their artwork was chosen by a panel of artists and art professionals from more than 21,000 submissions to be displayed at the Young Artists' Summer Show, which will be held at the RA's Clore Learning Centre, Burlington Gardens in Piccadilly, London, between July 18 and August 13.
Mylo and Xander's portraits will also appear on the accompanying online exhibition, which will be available to view on the RA website from July 18.
Now in its fifth year, the Young Artists' Summer Show, which is inspired by the RA's long-standing summer exhibition, brings together artwork by primary and secondary-level students from across the UK.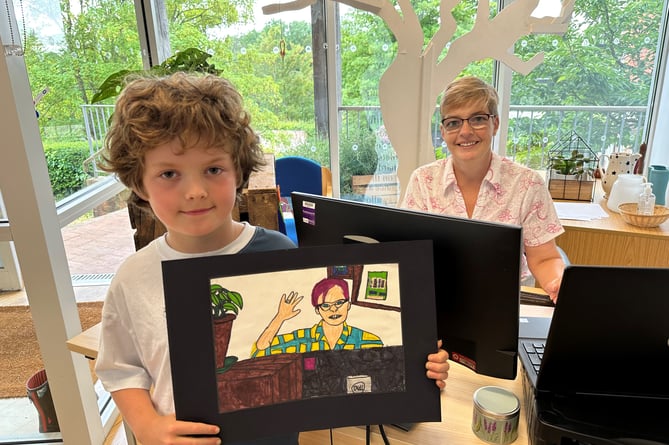 Artwork created by pupils at Bedales Prep last went on display at the Young Artists' Summer Show in 2020, when three pieces were chosen to feature in the online exhibition.
Head of Bedales Prep Colin Baty said: "Congratulations to Mylo and Xander for this fantastic achievement.
"The strength of art and design at Bedales Prep continues to shine, thanks to the department's inspiring teachers who bring the pupils out of their comfort zone to achieve such wonderful results."
Bedales Prep's head of art and design Susan McFarlane said: "I am delighted Mylo and Xander's work will be displayed – with more than over 21,000 entries, it really is a great achievement.
"I look forward to going to the show during the summer break and seeing their portraits on display."
Tom of VIP Nails said: "Mylo and his mum brought the portrait into the shop to show me, and I thought it was amazing.
"To know it will now be displayed in London is fantastic."
Bedales, an independent school, comprises three schools near Petersfield – Bedales Pre-prep (ages three to eight); Bedales Prep (ages eight to 13); and Bedales itself (ages 13 to 18).
It was established in 1893 by founder John Badley, who wanted to educate the whole person – 'head, hand and heart'.