Escape the winter blues with a refreshing walk through some of the National Trust's most beautiful properties.
From snowdrop-filled gardens to panoramic views and wildlife-rich commons, whether you prefer a leisurely stroll with coffee in hand, a family adventure, or a more challenging hike, these National Trust properties in Hampshire have something for everyone.
Take in the beauty of the winter landscape and boost your wellbeing with a walk through Mottisfont's scented winter garden, Hinton Ampner's 1,600 acre country estate, the wildlife-rich New Forest Northern Commons, or the family-friendly grounds of Mottisfont and Hinton Ampner.
Vicky Fletcher, general manager at Mottisfont, said: "From seeing the first snowdrops lift their heads in the garden, to listening to a robin singing from a frosty hedgerow, moments spent outdoors have a hugely positive impact on our wellbeing during these shorter days.
"We're inviting everyone to get outdoors, enjoy nature, and take in the beautiful sights on offer, with friends, the kids, or the dog."
Best for snowdrops and winter scents
From late January, hundreds of snowdrops litter the start of Mottisfont's river walk in the garden. A woodchip paths winds through the snowy clusters, enabling visitors to get maximum enjoyment of this beautiful scene. Children and adults love the tiny flowers, which offer a hope of spring to come.
In Mottisfont's scented winter garden winding paths take you past all sorts of winter delights. Look out for brilliantly coloured dogwood bark, the ghostly silver arches of ornamental bramble, rich red hips and berries. As winter continues, the garden becomes a refuge for flowering shrubs such as hellebores, mahonia, sweet-smelling winter honeysuckle and daphne.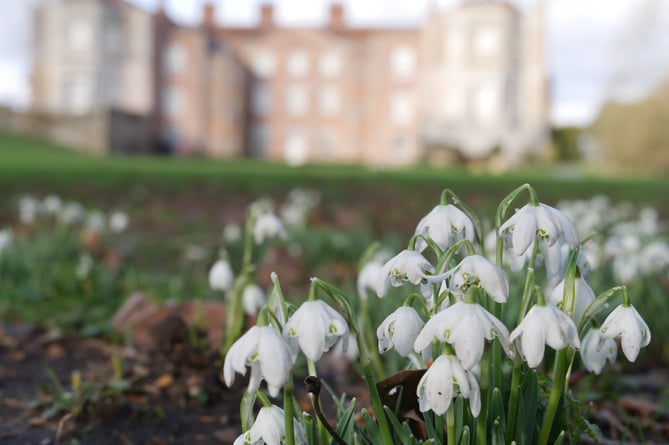 Snowdrops at Mottisfont
(Catherine Hadler / National Trust)
Hinton Ampner, nr Bramdean
If you're after a walk with panoramic views, try Hinton Ampner's four mile Dutton Estate Walk, which meanders through this magnificent 1,600 country estate. This circular walk which begins just beyond the church in the garden starts with farmland tracks and fine vistas, before weaving through beech woodland, where towering avenues create wonderful photo opportunities.
Where you turn right onto the Wayfarer's Walk to head back to your starting point, you can opt to continue a little further, strolling through Hinton's glorious parkland. Don't forget to turn back to take in the panorama before entering the gardens*. In February, you'll find beautiful scatterings of snowdrops on the garden lawn.
*National Trust membership or a ticket to Hinton Ampner is necessary to access the gardens.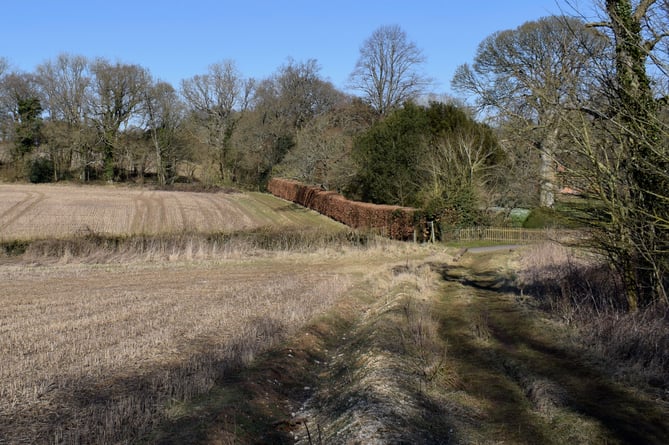 Hinton Ampner's Dutton Estate walk offers wonderful panoramic views
(Alison Marsh / National Trust)
New Forest Northern Commons
In the New Forest, we look after 4,000 acres of lowland heath – a landscape that once cloaked vast stretches of England but which today is an international rarity. However, what remains – a mix of heathland, woodland, mire and grassland - is incredibly rich in wildlife.
Our three trails, varying in length from 1.2 miles to 4.3 miles take you across ancient commons, with miniature valleys and sparkling gravel streams. The gorse dotted throughout provides perches and cover for the tiny blue-grey Dartford warbler, and the blush-chested stonechat – two birds to look out for on a winter's stroll.
You might also see the ghostly grey-white form of a male hen harrier gliding over open heath on the hunt for food; they come south from Britain's uplands in winter. Another spectacular winter visitor is the short eared owl, which often flies during the daytime.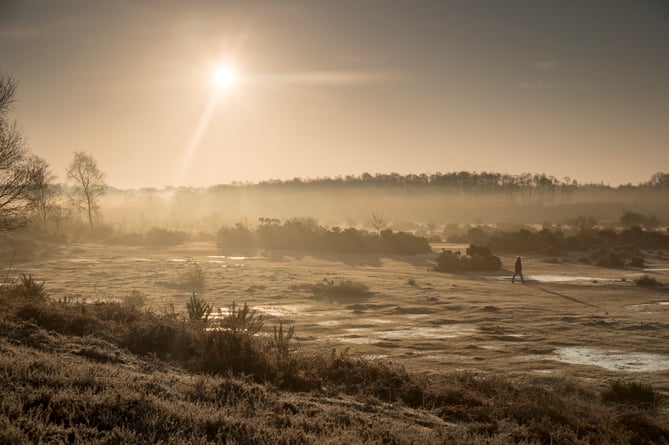 Rockford common in the New Forest
(John Miller / National Trust)
Follow the river through the gardens, then cross the fields behind the house, before returning to the grounds via the stableblock. This is a pretty walk and perfect for families, being quite short and relatively close to the house. It's suitable for all terrain buggies, and takes in Mottisfont's Wild Play area, which has big wooden structures built for climbing, balancing and exploring.
A five minute drive from Mottisfont brings you to Spearywell woods where there's a colour-coded 1.2 mile circular cycle route developed specially with families in mind, as well as a 2.5 mile route. Older families can try the six mile waymarked walking trail through ancient farmland and woodland, and along quiet country lanes.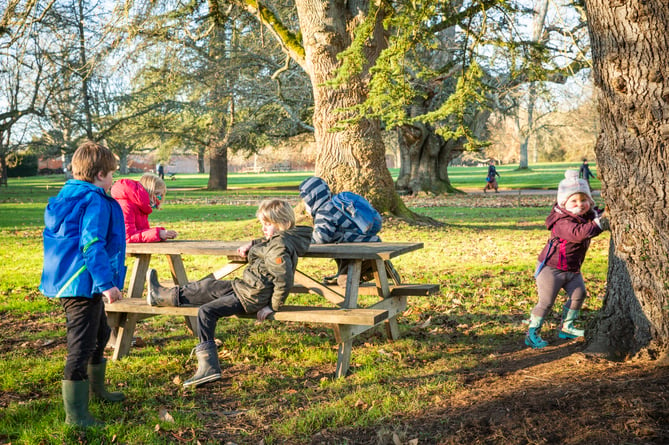 Children playing on a picnic bench at Mottisfont
(James Dobson / National Trust)
Stockbridge Down, nr Winchester
You may be buffeted by winter winds as you make your way up Stockbridge Down, but it's worth it, for the knowledge that you're walking through a gateway into a very ancient past. This downloadable walk takes you over ancient Bronze Age burial mounds to 3,000 year old Woolbury Ring fort and ramparts at the very top of the hill. From there, you can take in vast expanses of the Hampshire countryside, and Wiltshire's famous Salisbury Plain.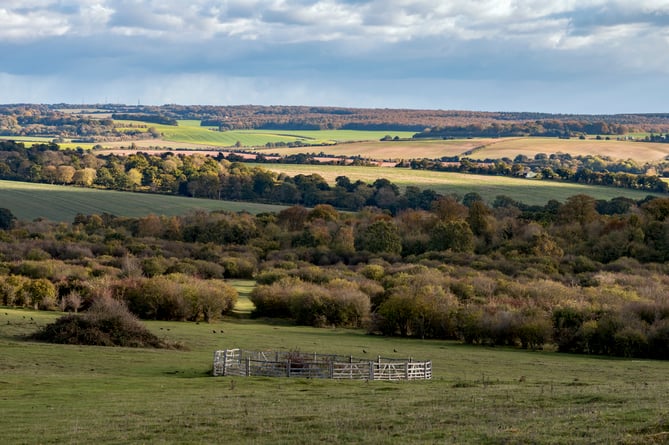 Stockbridge Down
(Hugh Mothersole / National Trust)