A new plaque by the "neglected" artist who painted murals at St Mark's, Upper Hale has become the 30th to be added to the 'Notable Names of Farnham wall' in South Street.
On September 21, at 2pm, Upper Hale reverend Lesley Crawley, picture restorer Nick Seversway and Farnham's mayor Alan Earwaker unveiled the plaque dedicated to the work of Kitty Milroy.
Eleanor Catherine Wallace Milroy, known as Kitty (1885-1966), painted the murals in the chancel of St Mark's between 1911 and 1920, depicting the Annunciation, the Benedictine, and the Gospels. The murals also feature local scenes.
Cllr Earwaker said: "These works of art are thought to be of national significance because of their quality and their place in the development of women's art." 
Rev Crawley said: "It's really important that Kitty is honoured because she is a female artist who has been completely neglected over the years, like many female artists are.
"She lived in the parish, she worshipped at St Mark's and painted murals that showed the joy of creation in the Benedictine. Her work is all about praising God and the joy of God. The murals are of national significance and a real jewel for Farnham town and more people should know about them."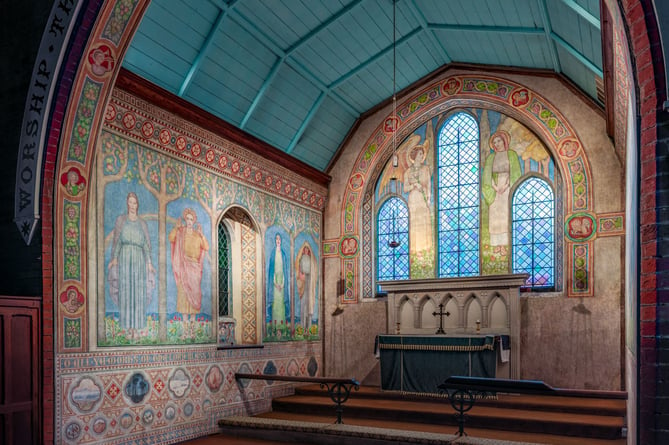 The Kitty Milroy murals at St Mark's Church in Upper Hale were painted by artist Eleanor Catherine 'Kitty' Milroy between 1911 and 1920. They represent local scenes and Biblical passages and have recently been restored by conservators Rickerby and Shekede.
Mr Seversway said: "Kitty trained at The Slade in London for three years and attended on a further three occasions. It was the only art establishment that women were allowed to draw from life.
"It is also believed Kitty was not born deaf but developed her loss of hearing through illness, suspected to be meningitis but not known for sure. 
"This is important to note because a lot of people who have seen the paintings say they have a peaceful quality. This would mean Kitty was fairly insular when she painted the murals with war going on outside and around her."
The murals were restored by conservators Stephen Rickerby and Lisa Shekede. In November 2017, the first meeting at the church was held to discuss the state of the murals. Stephen and Lisa first visited St Mark's in February 2018, which led to their suggestion that they write a report on the murals and their condition.
Their first report, a comprehensive 102-page document, cost £2,800 and was delivered in December 2018. The funds for this initial assessment were raised through local donations and ChurchCare.
The amount needed for the conservation was around £42,000, and generous local contributions helped advance the fundraising efforts. ChurchCare donated again, along with Surrey Historic Buildings Trust, St Andrew's Conservation Trust, Idlewild Trust, Church Preservation, Garfield Weston Foundation and Farnham Town Council, all contributing to the preservation of these important works by a female artist.
The conservation work began on April 12, 2021, and was completed in ten weeks. Farnham Public Arts Trust covered the cost of lighting in the chancel.
The murals project was shortlisted for the Surrey  Heritage Awards in March 2022, with an exhibition at the Museum of Farnham later that year.
In December 2022, the church and murals were granted Grade II-listed status.
The recognition and preservation efforts for Kitty Milroy's murals have also gained media attention, with both Sky and BBC South featuring them.
The murals can be viewed when the church is open for services and at other times.