It has now been one year since the British government announced the special scheme Homes for Ukraine for evacuees suffering at the hands of the Russian invasion of their country.
More than 150 Ukrainians found a new home in the Petersfield area and surrounding villages of Steep, Stroud, Liss and Froxfield.
During the past year, sponsor families helped the Ukrainians who were struggling with difficulties here. They helped them to learn English and shared their cultural traditions with the evacuees. Some of them becoming as close as real families.
One host family said: "Our Ukrainian family of a mother and her two daughters have now moved on to London in the next chapter of their life in England. 
"When they first arrived last April, they were still suffering from the effects of their time sheltering from Russian missiles attacks on their home town of Kiev and their traumatic journey to Poland to escape the bombing. 
"In time, they became more relaxed in their new surroundings and began to share their stories. From them, we learnt more about Ukraine, its language, history and culture.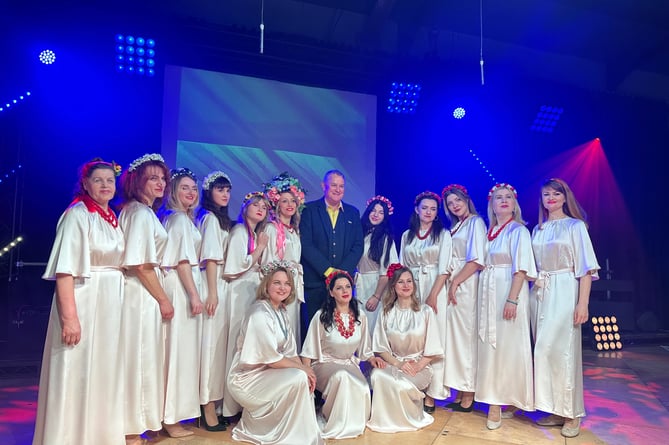 The choir Two Colours at the fundraising concert Ukrainian Spring
(Two Colours)
"Our family were charming, determined to make the most of what Britain had to offer, and fiercely patriotic. 
"Despite being safe in Petersfield, they never forgot the continued suffering of those left behind at home and kept in constant contact with friends and family. 
"Now they have gone we miss them terribly and hope everything will go well for them in the future."
The most difficult issue for the Ukrainians and their English hosts was the language barrier, especially for the adults, who had never spoken English before. 
For instance, one evacuee, Iryna Kovalevska, who has worked at a hospital in Ukraine all her life, couldn't speak English at all when she came here in September. Now she attends the English for Speakers of Other Languages classes which are organised by Petersfield Town Council specially for Ukrainians.
Iryna says she learns more every time she goes to her English class.
The book for studying English which was given to the Ukrainians by the council
(Khrystyna Kovalevska)
"Our teacher makes a huge effort to encourage us to speak English. Twice a week we read, write and learn new words," she said. 
"It was hard for me at the beginning but now I understand the structure of English sentences and the easiest words. At least I can communicate with my sponsor family without using Google Translate."
Since the Ukrainians have come here, some of them have completely changed their professions and lifestyles. For example, Maryna Haievska worked as a nanny for eight years in Ukraine but now works behind the bar at The Queen's Head in Sheet.
She said: "I had been working as a nanny for a very long time, so when I came here I was looking for the same job. 
"But my friend advised me to try my hand as bar staff at The Queen's Head in Sheet. At first, I was afraid of doing something wrong, as everything was new to me. 
"Anyway, I shouldn't have worried, because everyone was kind to me and supported me. 
"Now I really enjoy working at The Queen's Head. Unfortunately we don't have pubs in Ukraine, so I was impressed by the culture and the history of English pubs. The customers always smile and chat with me. And I try to share this positive energy too."
Not only did sponsor families help the Ukrainians to begin their new life here. Lots of charities, schools and churches were involved in helping them – the people of the United Reformed Church organised warm meetings for the Ukrainians with tea and cakes.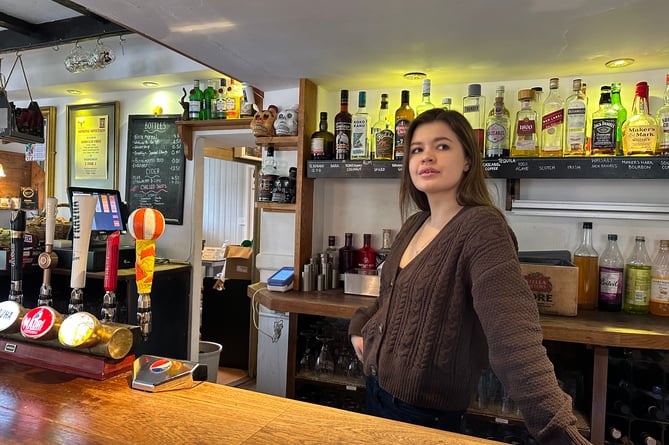 Maryna Haievska as a bar assistant at the Queens Head pub in Sheet
(Maryna Haievska)
The Ukrainian evacuees were able to get membership cards of the Everyone Active Network, which allowed them to have free access to the gym, swimming pool, sauna and other facilities.
Also huge support was provided to Ukrainian students, who were quickly accepted to the state and fee-paying schools in the area.
One example was Bedales School, which has a long tradition of welcoming refugees beginning in the 1930s when Jewish families were seeking refuge from the Germans. They still continue to help refugees who need support.
Head Will Goldsmith said: "Our school is a big, caring community who take the responsibility to help people in need. When it came to the Ukrainians, we had a meeting and decided to give eight free places to the refugees to study at Bedales."
He said the refugees were welcomed with open arms. They had everything they needed to study in safety and the Ukrainian students continue to inspire the other students to work harder and be stronger.
Ukrainian refugee Maryna Melnyk's daughter Sophie studies at Dunhurst – and is very pleased to be there. 
At the beginning she could not speak English very well, and so she didn't understand most of the lessons. But with the teachers' support and effort, she is now fluent in English and confident in herself.  
Moreover, to give each other a sense of unity, the evacuee women and some of their children decided to meet together to sing traditional Ukrainian songs, which helped them regain a sense of meaning. That's how the Two Colours choir was created in Petersfield.
Choir leader Olena Petrovska said: "We are all women with various interesting professions in the past. Some of us were singers, designers, lawyers or students.
"Once we came here, our small Ukrainian community wanted to be closer to each other and the best way to be united for our nation was by singing. So we started to sing and wanted to share our culture with English people and friends. 
"Everyone supported us and gave us hope. For me it is very important, as it comes from our hearts and we want to share our fire with all of them."
All in all, the past year has proven the humanity and kindness of the English people can be limitless for Ukrainian evacuees, and this will never be forgotten. The Ukrainians and the English people have become united as they never were before.