Arriving on Valentine's Day in 1937, Valerie Mary Young was the elder of two children born to Frank and Mary Young of Wisborough Green, Sussex.
The family soon moved to Lower Froyle where Valerie spent her formative years, being educated at Eggar's School (which was then nearer the centre of Alton).
Her love of horses, which stayed with her all her life, found her making her way to Blundens Farm, Upper Froyle, on a regular basis to ride under the tutelage of Joan Andrew. 
Valerie often reminisced about the days exercising the hunters and accompanying Joan to local point-to-points. In fact, in her 60s Valerie learned to ride side-saddle as it was something she had always wanted to do!
After leaving school, Valerie worked for a time in Boots in Alton where she met her future husband, Keith Kenward. 
They were married on July 3, 1963 at Worldham Church – and four children followed, Joanna in 1964, Phillippa in 1966, Katherine in 1968 and Matthew in 1970.
Since their marriage Keith had been working as farm manager on farms at Worldham, Crondall and Christchurch but in 1970 the opportunity arose for the young family to tenant a Surrey County Council farm in Farnham. 
Initially at Bushey Reeds in West Street, the farm amalgamated with Coxbridge Farm next door to become a modern, award-winning dairy farm milking home-bred Holstein-Friesians.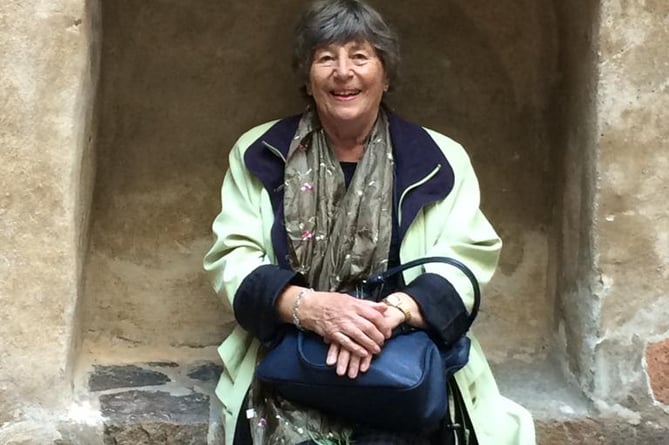 Valerie Kenward, who died aged 85 in January, shortly after her husband Keith
(Kenward family)
While Keith worked hard on the farm, Valerie worked hard at making a home for the family as well as turning her hand to anything that needed doing outside – from calving cows, rearing those calves, driving the tractors and farm machinery (which she hated!) and was frequently seen forking the grass up on the silage clamp during the spring or stacking bales of hay in the summer. 
And there was always a hot meal ready for hungry workers at the end of a long day!
Valerie's love of gardening was inherited from her father who worked for Gertrude Jekyll at Munstead and many a summer evening found Valerie rummaging in her large, beautiful garden at Coxbridge, picking raspberries or beans until dusk.
When the four grandchildren arrived Valerie proved to be the most amazing, loving, doting grandma (or Gma as they christened her), and shared with them her memories and her love of nature and the outdoors.
She and Keith would take them, every year, on a week's summer holiday to the seaside. Just the six of them, sharing a week of exploring, swimming and old-fashioned fun.
When the great-grandchildren arrived, Valerie was able to pass on her memories and love to the next generation. 
Valerie possessed the qualities of empathy and compassion as evidenced by her volunteering as a helper at the local Riding for the Disabled group and welcoming children from the Chernobyl disaster to the farm. 
But she was also quietly determined as was shown when, in her 70s, she decided to join the tall ship Lord Nelson on its first leg from London to the Channel Islands. What an amazing lady!
This remarkable lady, who wasn't huge on the world or national stage, was huge within the Kenward family and her sudden loss in January, so soon after her husband, means she will be terribly and very sadly missed by all her family and friends.