South East Water has confirmed when it will be reopening, and closing, a lane of West Street in Farnham this weekend to allow the Farnham Artists & Makers Market to go ahead.
West Street will close between the junctions with Downing Street and The Hart on Sunday, May 21, for the market taking place between 10am and 4pm.
To facilitate this, South East Water will reopen a lane of West Street between the Coxbridge roundabout and Bourne Manor care home and install temporary traffic lights. This will be in place from around midday on Saturday, with the road set to close again at around 6.30pm on Sunday.
Jo Shippey, South East Water community engagement manager, said: "We're continuing to make good progress installing the remainder of the pipeline in West Street, with about 50 metres left to lay.
"At about midday tomorrow we'll begin switching the road closure to traffic lights to ease access for those travelling to the Arts and Crafts Market on Sunday. We'll also lay down all the road closure signs.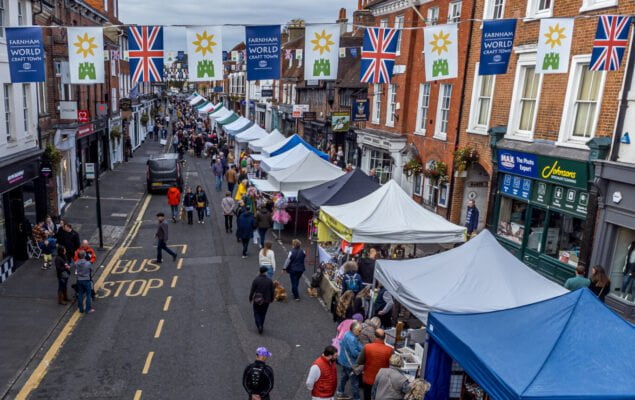 Farnham's West Street market will take place between the junctions with Downing Street and The Hart on Sunday, May 21
(Farnham Town Council)
"The road closure will then be put back in place at about 6.30pm on Sunday once the market has finished.
"We're still on track to finish laying the pipe in West Street and fully lift the road closure at the end of May."
South East Water is currently installing a new water main in the road as part of a major £1.3 million upgrade.
Once complete, the new pipeline will enable South East Water to pump more water into the town, ensuring customers don't suffer with low water pressure or interruptions to supply as the community grows. 
The water company expects to lift the road closure in West Street for the final time at the end of May when the crews will continue laying the new two kilometre pipeline in private land.