Aldershot & Farnham head coach admits promotion was vital for club's future
Tuesday 26th April 2022 4:00 pm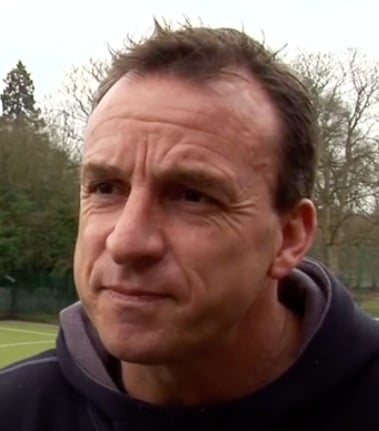 Scott Perry has had a marvellous season in front of goal PICTURES BY STEVE TARSEY
Subscribe newsletter
Subscribe to our email and get updates right in your inbox.
ALDERSHOT & FARNHAM clinched promotion from South East Men's Division One West after a thrilling season.
A 3-1 win over Worthing in the final match of the season saw them win their fifth promotion in six seasons.
Now they are one more promotion away from the national league.
Yet head coach Ian Jennings now admits that had the Shots lost that title decider against Worthing, it would have been the end of the club's amazing success story.
He believes players would have left – and that he, too, would have sought new challenges.
In a revealing interview, Jennings – who was the highest National League top scorer at one time with 279 goals, and is the first person to have played and then coached their country – said: "This has probably been the least enjoyable season for the players because of the league restructuring.
"It was no fault of anybody's but the league of 12 was split into three categories – there were three or four pretty good teams, five good teams, then there was a pretty mediocre group.
And there were two or three teams who really shouldn't have been in that league at all.
"We used to really feel for them, because they've got quite a long way to travel for each of the away matches and that's no fun for either the team they're playing or themselves to get beaten badly in every game.
"I think the reality is that had we not got out of the league this year, I think that would have been it for the club.
"I don't think the club would ever have got out of that league, because I would have had players – quite rightly – turn around and say: I'm done.
"I'd have had players wanting to play at a higher level – and they would have gone with my blessing.
"All those emotions were with me in that last game because it was potentially the end of the journey.
"We've worked and worked and the club have gone from strength to strength – throughout the club, throughout the junior section, throughout the ladies' section and the men's section.
"And I could see it coming to a grinding halt.
"It did have an effect on me because I kind of wasn't ready to stop yet. And I think the reality is I probably would have stopped as well, because it's not where I should be coaching or where I want to be coaching.
"But I didn't want to leave something halfway through – I think there's potentially more to come.
"We now go into the Premier League, one below the National League.
"If we were to win the next league, we go into the national league, and then you have to win the national league to then go into the Premier League. That's not going to happen.
"Next season is something we're all really looking forward to. The players want matches to be competitive. I like that I'll be challenged because there will be things I'll need to do during a game to make little adjustments that can catch the opposition out."
So how was the final game of the season for you? Win and you were promoted...
We weren't happy with how we played but it was one of those rare occasions where I was more interested in the result. We were very nervous.
We'd had two really good training sessions on the Monday and Wednesday and had a serious chat about making sure individually we put ourselves in the right head space. The warm-up was good. Everything was good. And then first four touches we gave the ball away in the 22. And they got a short corner and scored.
Did you ever think it would be one of those days when you're going to score and then miss out at the final hurdle?
I don't think I was ever confident because the individuals in the team – who have been so steady and so influential throughout the previous 21 games – started to do things I'd not seen them do before.
We were coughing and spluttering a bit.
But Scott Perry, who has had a quite extraordinary season – he ended up with 51, 52 goals – scored three goals and once the third goal went in, the nerves started to settle a little bit.
It has been quite a success story for the club.
That's our fifth promotion in six years, which is just quite extraordinary. And you know, and I've still got some players with me who were there right at the beginning.
What was the state of the club when you arrived?
They were playing basically one step up from parks hockey. When you look back now and you see the kind of teams we were playing, I ask myself what on earth was I taking on?
People were not really that bothered about their hockey or the results and there was no real commitment.
I wanted to take it on because my philosophy on coaching has always been I want people to be given the opportunity to be the best they can be.
And once I'd met the guys, I felt there was enough there to put some structure and some organisation together to prove this was doable.
I think there was an excitement from the players because perhaps they hadn't had the opportunity to be coached to the right level.
I brought an expectancy that you need to be fit and you need to be committed. And if you're not either, then you're not really welcome.
Did many players not buy into that and leave?
Most of them stayed – I'm struggling to think of anybody who has left in the past six years and gone to another club.
Some have stopped playing altogether because it got a bit too much alongside family commitments, and they understood they can't do something in a half-hearted way.
Some dropped down to play for another team within the club, which was great – I'd much rather have it that way than they feel they are not getting what they need from the club.
And we've been lucky enough to pick up a few players along the way.
We've always been blessed with just getting the one or two who have been playing at a higher standard and that's really lifted the group.
Has promotion every year been easy?
We ran away with a couple, and finished in the top two one year but still got promoted.
There has been only one year that I felt perhaps the level that we were jumping up to was a bit too hard. But then we were lucky enough to pick up a couple of players and didn't look back.
For this club now to be one below National League is just fantastic.
Last season saw you in a new league after a reorganisation of the hockey pyramid. Was that tough?
To be honest, we had no idea what we were going to step into.
We scored 19 goals in our first two games and didn't concede any and it would have been very easy to get carried away.
But I told the players then I had a feeling that come the end of the season, it could go down to goal difference so it was all about not conceding, and pushing hard to score more goals. We never took our foot off the pedal. And ultimately, that's what gave us the advantage going into that last game.
I am particularly pleased by how we stuck by that principle, by the way through the season we gave ourselves a goal difference of 45.
Did you expect promotion this season? When you looked at the teams in the division, there were some big clubs there.
Yes, we were up against some big clubs. If you'd asked me at the beginning of the season, I would have taken going into the last three or four games and being in with a chance.
I would have been happy for us to take a season to establish ourselves in the division.
What can you do next season? Are you expecting another promotion?
I think we will definitely surprise a few people. We have really come up under the radar so we will definitely catch teams out.
As to how well we do, if I kept every single player I think we would be fourth, fifth or sixth in the table.
If I were able to pick up three players of a good-enough quality then anything can happen.
If we had our own ground and clubhouse it would transform the club – it would help attract players of the right quality.
Are you confident your players will stay with you next season? Other clubs must be looking at some of them as they've had such a good season – players like Scott Perry, for example, who scores goals for fun.
Scott is very happy here. He works very hard and enjoys the fact we play on a Saturday and he and his fiancee can have Sunday together.
There are a couple of concerns with players who have young families and work commitments.
But they have worked so hard to win the league to get the opportunity to play at the next level, so why would anyone leave now?
Had we not gone up, I would totally get it. But having said that, we're not paid, like footballers or some rugby players. People have to make decisions based on family as well.
I would be very disappointed if anybody were to call it a day, but in the back of my mind I'm not going to be surprised.
A couple of extra, good-quality players could make all the difference then.
The level we're going into now is a completely different ball game. These are what I would classify as good hockey players.
Whereas the teams we've been playing, have always had two or three weaknesses which you can isolate and work on, we're now going into something that's much more of a level playing field.
And we'll have to have our wits about us. And we'll have to improve as well.
Comments
To leave a comment you need to create an account. |
All comments 0