Farnham Runners produce terrific performances at superbly-organised Alton 10
Saturday 28th May 2022 4:00 pm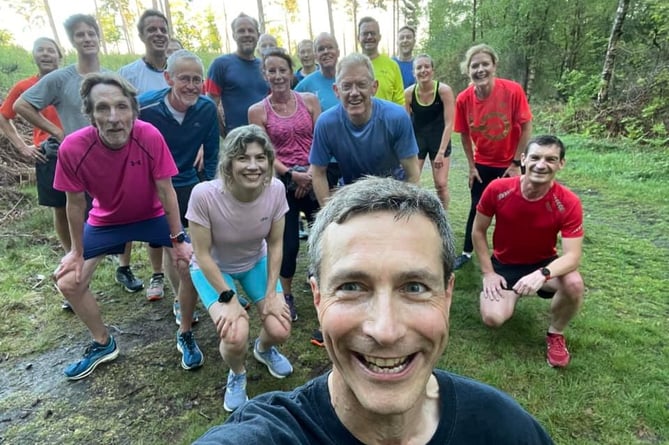 Subscribe newsletter
Subscribe to our email and get updates right in your inbox.
Making the most of a local venue for the eighth Hampshire Road League Race, Farnham Runners fielded almost one-tenth of the entries in the Alton ten miler, which was expertly organised by Alton Runners.
They were rewarded with excellent team results.
All the Farnham Runners teams are in the highest divisions possible for their status.
The men's A team were fourth and now lie fifth out of ten clubs in the top division.
The men's B team were fifth and lie ninth of 13 while the C team were second and lie tenth of 19.
The ladies' A team were second and lie sixth of ten in the top division, with the B team third (lying fifth of 16) and the Cs first on the day (lying third of 15).
There were some excellent individual performances with four category winners among 13 top-five category places. Everyone did well to finish the hilly route in very warm and sunny conditions with little shade.
Leading them in was Nik Darlington, who ran the race at the end of two 90-mile training weeks before the Edinburgh marathon, yet clocked 57.50.
He said: "I never in my wildest dreams expected to get a fourth-place finish and to be the first in the senior male category.
"I was in second place for the first couple of miles, but fell back to sixth in the hills proper but gradually worked my way back to fourth.
"I found there is a real skill knowing when to hold back, when to attack, pace yourself and not let negative thoughts about how others are running around you affect your own performance."
Matt Saker was first M50 in 1:01.06, with William Sweeney in 1:05.25 and Nick Grist in 1:06.35 completing the A team.
Neil Ambrose in 1:09.47, Chris Raby (second M60) in a personal-best 1:11.09, Mike Taylor in 1:11.30 and James Morrish in 1:11.36 made up a close-packed B team.
Ahead of some of them on chip but not gun time came Richard Denby in a PB 1:11.26. Next was second M65 Matthew Wernham in a PB 1:11.58, Ivan Chunnett in 1:12.38 and Gary Armstrong in 1:13.50 as part of the C team.
Heading the ladies was Emma Pearson, eighth lady and second F45 in a new best of 1:11.49, with Kayleigh Copeland, ninth lady and second senior not far behind in 1:12.06. Linda Tyler was second F60 in 1:19.04 with Catherine Timson as final A-team scorer in 1:21.47.
The ladies' B team comprised Lindsay Bamford (fourth F55) in 1:26.59, Jane Georghiou (first F65) in 1:27.51, Kay Copeland (third F60) in 1:30.00 and Collette Grist in 1:34.06.
The C team was made up of Rebecca Lloyd in 1:36.21, Gill Iffland in 1:37.51, Vicky Goodluck in 1:37.52 and Kate Townsend in 1:41.12.
Others in the top five of their category were Terry Copeland (fifth M60), Catherine Wernham (fifth F65) and Peter Callow (fifth M65).
Luke Smith, Tony Jones, James Goodwin and Brigid Walters all ran a ten-mile race for the first time. Another 13 Farnham Runners completed the race.
Two Farnham Runners completed the South Downs Way 50-miler, organised by Centurion Running.
Sarah Hill, an experienced ultra-runner – and winning lady in 2021 – was tipped by organisers for a podium place and was the leading lady early on. Before the first checkpoint, she and eight others unfortunately missed a sign, resulting in omitting about three miles. They were soon known as the "Naughty Nine" and were given an hour's time penalty.
Despite this, Sarah finished sixth lady in a time of 8:34.30.
Stephen Bullough was pleased with his achievement of placing 19th of 353 finishers.
He said: "The South Downs on a sunny day is any trail runner's dream, and we were exceptionally lucky to have glorious sunshine all day, which makes a big difference in these events.
"I was pleased with how it went. I had loosely hoped to finish in under eight hours and so I was happy to cross the finishing line in 7:38.20 and sneak into 19th place.
"My nutrition plan worked well and I was able to pick up some things along the way from the aid stations.
"This is a great race for anyone thinking of venturing into longer distances – it was organised superbly and the route is clearly marked throughout.
"I am now looking forward to the South Downs Way 100 on June 11. This is my redemption run as my previous attempt at 100 miles ended with me throwing in the towel at mile 88. Watch this space!"
Also now tackling ultras is Joseph Lee who came 11th out of 171 in the North Downs Ridge Trail Ultra 50km, organised by Freedom Racing, in a time of 4:35.26.
He said: "Last year the North Downs Ridge was my first running race of any kind.
"It was quite an introduction to the world of races and I enjoyed it immensely, despite getting injured.
"This time round I was somewhat more prepared, having two years of running under my belt and having just finished a training block for a successful half marathon in France.
"The course was absolutely gorgeous, winding along the North Downs Way, from Denbies wine estate up to Saint Martha's Hill and then back along the same route, finishing off with a loop around a small town.
"There was about 900m (around 3,000ft) of climb, which was brutal on the legs, but despite a lack of endurance training I managed to finish with a time of 4:35.38 – an average pace of 5.27km or 8.46 mile – to finish 11th.
"I would highly recommend it for anyone who wants to have a crack at an ultra – great route, great set-up and lovely people."
Seven Farnham Runners enjoyed the recent Brighton marathon in the sun.
Matt Saker clocked under three hours in an excellent 2:58.23, while Emma Pearson gained a new personal-best time by three minutes in 3:17.20, as seventh F45.
Andrew Brown clocked a massive PB by 15 minutes, in 3:38.39.
Linda Tyler was delighted to be second F60 and to gain a new F60 club record in 3:44.11.
Ali Falkiner and Mike Taylor both finished under four hours in 3:52.26 and 3:58.42 respectively, while new member Megan Grocott recorded 4:58.19 in her first marathon.
Justin Clarke chose the Southampton marathon for his first attempt at the distance and came second in his category, gaining a new M60 club record by more than 15 minutes.
He crossed the line in an excellent 3:41.29.
The club continued their monthly roving runs with a very pleasant outing to The Sands, when the sun came out after an afternoon of rain.
After the run, the club's annual general meeting was held and flowers were presented to outgoing chairman Jacquie Browne, who will remain on the committee in the key role as liaison with the Bourne community and a trustee for the charity fundraising to improve and/or rebuild the clubhouse.
Comments
To leave a comment you need to create an account. |
All comments 0