New chancellor, and South West Surrey MP since 2005, Jeremy Hunt, looks likely to lose his seat at the next general election because of a national shake-up of constituency boundaries.
The Boundary Commission for England has today (Tuesday) published new revised proposals for constituencies across the country and has opened a final month-long consultation, giving the public one last opportunity to send in their views.
Among the most radical proposals are plans to carve up South West Surrey, and create a new cross-border 'Farnham and Bordon' constituency, also incorporating Haslemere and Liphook.
The remaining portion of South West Surrey would form a new 'Godalming and Ash' constituency, incorporating Cranleigh to the south and Milford to the west.
The changes in South West Surrey leave the chancellor Mr Hunt facing a tricky decision should the changes be made before the next general election.
Although Mr Hunt has repeatedly referred to South West Surrey as a "marginal" seat – in reality the constituency has returned a Conservative MP in every election since its inception in 1983.
Mr Hunt has himself polled more than 50 per cent of the vote in each of his five elections to date, and increased the Conservative's vote share in each of his first three ballots up to a high of 60 per cent in 2015.
However, his share of the vote has decreased in the subsequent two general elections, to 56 per cent in 2017 and 53 per cent at his last ballot in 2019, when his Lib Dem rival Paul Follows enjoyed a huge swing to come second with a 39 per cent share of the vote.
Should Mr Hunt stand in the 'Godalming and Ash' constituency, where he currently resides, he would likely be pitched against his old adversary Mr Follows – who has increased his profile locally since the 2019 general election, after becoming leader of Waverley Borough Council's ruling coalition in 2020.
Mr Follows has already been confirmed as the Prospective Parliamentary Candidate for South West Surrey by the Lib Dems.
And he might even consider himself the favourite should Mr Hunt run against him, after a YouGov MRP poll suggested the South West Surrey MP would have lost his seat had an election been held in June this year.
Mr Hunt could instead choose to run in the 'Farnham and Bordon' constituency, counting on his historic power base in Farnham and Haslemere, and the rural areas in between.
But he will be wary that both Farnham and Bordon town councils have fallen to independent groups in recent local elections, while Haslemere Town Council is run by the Lib Dems.
The latest proposals have come forward after the Boundary Commission took into consideration more than 45,000 comments sent in by the public during the previous two stages of public consultation.
It has changed nearly half of its initial proposals based on this feedback, including adjusting the proposed boundary of the 'Farnham and Bordon' constituency to incorporate all of Bordon – rather than just half of the town as initially proposed.
To compensate for the loss of Bordon, neighbouring East Hampshire would gain a number of villages to the south. While Chichester constituency is also being cut in half, forming 'Arundel and South Downs' to the north and 'Chichester' to the south.
A third and final consultation on the new map of revised constituency proposals is open now until December 5. The public are invited to view and comment on the new map at bcereviews.org.uk
The Commission is undertaking an independent review of all constituencies in England as requested by Parliament.
The number of electors within each constituency currently varies widely due to population changes since the last boundary review.
The 2023 Boundary Review will rebalance the number of electors each MP represents, resulting in significant change to the existing constituency map.
As part of the review, the number of constituencies in England will increase from 533 to 543.
After this final consultation has closed on December 5, the Commission will analyse the responses and form its final recommendations. These will be submitted to Parliament by July 1, 2023.
The Herald has asked Mr Hunt, Mr Follows and East Hampshire MP Damian Hinds for their thoughts on the proposed changes.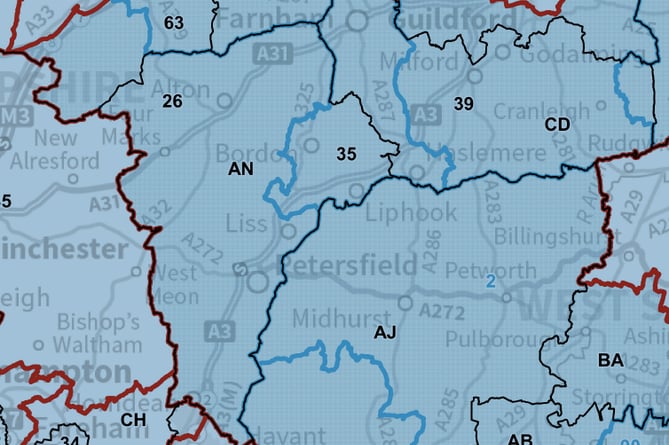 A map of the Boundary Commission's proposed new East Hampshire constituency boundaries (number 26), omitting Bordon but reaching further south than at present. The neighbouring 'Farnham and Bordon' constituency is represented by number 35 and 'Arundel and South Downs' by number 2.
(Boundary Commission )
Tim Bowden, secretary to the Boundary Commission for England, said: "Today we are announcing the publication of our revised proposals.
"Last year we published our initial proposals for new constituency boundaries – our first go at what the map should look like.
"We are delighted with the huge number of comments from members of the public on our initial proposals, many which included valuable evidence about local communities.
"Today's publication is the culmination of months of analysis and we have revised nearly half of our initial proposals based on what people have told us.
"We now believe we are close to the best map of constituencies that can be achieved under the rules we are working to.
"However, we still want people to tell us what they think of this latest map before we submit our final recommendations to Parliament next year.
"This is our final consultation and I encourage you to participate in the 2023 Boundary Review."