A BID to uncover the truth about a Bristol hospital and the "lack of care" they showed to a rugby-loving student from Sheet has ended with a damning conclusion.
An inquest heard last week that Maddy Lawrence died from an infection at Southmead Hospital 16 days after dislocating her hip during a rugby match at the University of West England.
The healthy 20-year-old suffered  a string of failures with her screams of pain being "merely managed" and infection allowed to progress. At one stage she went 16 hours without observation and her deterioration was "not recognised" with symptoms being ignored.
Coroner Peter Harrowing concluded last week there were "gross" failures in Maddy's care and her death in March 2022 was contributed to by neglect.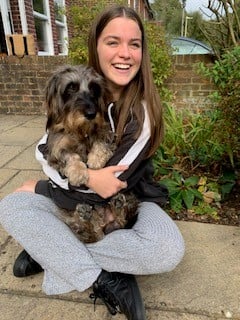 The former Churcher's College student died 16 days after suffering a dislocated hip in a rugby match in Bristol.
(Simon and Karen Lawrence)
Her parents, Simon and Karen, found the inquest at Avon Coroner's Court "extremely hard" but the couple are satisfied with the result and the lessons learned.
They said: "I really feel now we've got to the bottom of it all and as awful as the outcome was, we feel we had a really good explanation of what happened to Maddy.
"On that particular ward in Southmead the people had a laissez-faire attitude. 
"Dealing with sepsis isn't an easy thing but they had narrowed it down to certain steps. You also see all these pictures saying it's all about time and you've got to get on with it and have that professional attitude, but they didn't."
Maddy's parents have been keen to highlight the part rugby played in her life and how she embraced the "inclusive" sport, calling it an "antidote" to the ills of social media.
That's been reflected in the Maddy's Mark charity launched in her name which supports the mental health and well-being of young women through rugby.
The charity's latest challenge will take place this Saturday in the Churcher's pool as Simon and his team will attempt to swim the width of the English Channel.
For more details or to donate look for 'Simon Maddy's Mark" at www.justgiving.com