It's well worth the wait as athletes impress at Alton 10
Tuesday 24th May 2022 4:00 pm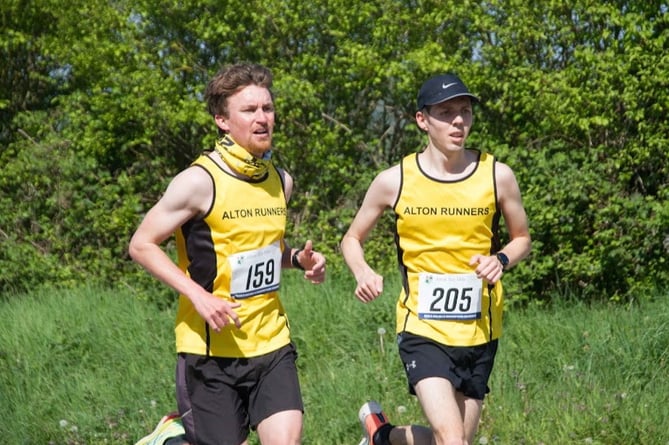 Subscribe newsletter
Subscribe to our email and get updates right in your inbox.
MORE THAN 400 runners lined up in the glorious sunshine at the start of the long-awaited Alton 10 on May 8.
Part of the Hampshire Road Race League season, this fixture was originally due to be held in 2020 so the day had a celebratory feel about it, helped by the addition of Alton's Rock Choir performing for the runners as they crossed the finish line.
The course itself was hilly yet beautiful with the first mile leading out through Holybourne village, taking in Binstead, Isington and picturesque Hampshire village lanes to finish back at Eggar's school a few yards from the start.
Although the race began in mid-morning, many volunteers had been setting up for hours beforehand. Among them was Alison Diarra, who had been up late the night before and discovered an unexpected benefit to a morning of race volunteering.
"It turns out that arranging safety pins into groups of four while co-ordinating a registration desk is the perfect meditative hangover cure to follow an evening of delayed big birthday celebrations!" she said.
"Having said that, I'm not sure fellow club member George's market trader calls of 'Roll up! Roll up! Surnames G to M!' were quite as effective a remedy, though!"
Eagerly awaiting the first runner back at the finish line, a group of club volunteers took it in turns to guess the time of the first in.
Guesses ranged from a confident 52 minutes to a still-impressive 58 minutes and the winning participant was Alton Runners' club secretary and coach Jenny French, who was just 23 seconds out with her guess of 55 minutes.
Jenny said: "Let this be a reminder to all – I may be a slower runner but you should always trust coach Jenny, I know my stuff!"
One runner nearly didn't get a time at all. Volunteer Heather Armitage said: "I saw one runner shoot off at the start but suddenly realised he hadn't crossed the official start pads to trigger the chip timing, so the next minute he was pelting back to go round again.
"Thankfully he was going at a pretty good pace so hopefully he made up the time quickly!"
Despite the heat of the day, the race was fast and all top ten finishers crossed the line in under an hour.
Just outside this was Alex Hall, narrowly missing out on a ten-mile personal-best time because of the challenging hills of Alton.
"I got a course pb and ran my best, though, so I am happy with that. Matt Eade and I were neck and neck for a full 8.5 miles. He made some ground on me on the downhill back to Holybourne and probably deserved the win for Alton, but I'm too competitive and wanted to see if I could close the gap.
"I managed to find an extra gear with about half-a-mile to go so got in just ahead of him!"
Another club member who found an extra burst of energy was Alistair Smith, ably helped by fellow coach Richard Taylor.
"I'd shot off too fast and had practically died by mile six," he said.
"Suddenly I heard Richard whispering in my ear 'you've got this, Alistair' and the next thing you know I was sprinting off again – coach Rich had worked his magic once more!"
Among the 35 Alton Runners to cross the finish line was Rachel Walsh who, despite pausing to tie her shoelaces at mile two, maintained her position as first club female.
"Alton 10 was a rather hot and hilly run but the views were beautiful," she said.
"Alongside being the first club female, the highlight for me was finishing third in my age category – and the lovely choir at the finish line!"
Despite not running a ten-mile distance in exceptional heat, many volunteers still got a thorough workout carrying armfuls of medals, signage, water containers and baggage on the day.
Helping with registration, medals and baggage was 15-year-old Aggie Longland who said: "This may sound peculiar but my favourite part of the day was sorting out the baggage at the end of the race!
"I love organising things and Diego, Tracey and the rest of the team were a really efficient group to work with. It felt like we had our own race going on – getting the number, finding the bag, returning it to the runner. I loved it!"
After the race, many runners and crew headed to The Queen's Head beer garden to relax in the sunshine. And from there, stories of gratitude, challenge and achievement began to flow along with the beer.
For club member Darren Pratt, it was all but inevitable he would finish in the pub.
"I was following a runner throughout the race who clearly had loose change in her pocket because I could hear it as she ran.
"I kept imagining she was running to the pub and if she'd gone off course I would have followed her, assuming she was getting the beers in!"
Sitting alongside Darren was fellow Alton Runner Steph Erskine, who said: "What a brilliant event! A huge thank you to everyone! The race itself was so well marshalled, the water stations were positioned, I felt, just at the right intervals and it was such a picturesque route.
"The Rock Choir really uplifted the event too, although I may be slightly biased as I am a member and turned down the opportunity to sing on this occasion!
"Sat here now I feel really hardcore – I just ran ten miles and I am still in the pub, on my third pint! Just don't tell my husband!"
Sarah Bennett was also full of praise for the event. "A big thank you to the organisers and volunteers," she said.
"I loved the medal, especially as it was due to be used in 2020. It was a fitting celebration of how lucky we are to be able to run together in 2022. It was a great race although my legs have yet to fully recover!"
Aside from the feeling of celebration, another common experience shared by many was sunburn and in the days following the race, the Alton Runners members' Facebook page became awash with red and pink tan lines.
Alistair Smith was the first to 'bare all' commenting the brand-new style of club vest was much better at preventing nipple chafing but didn't help much with sunburn.
Other than escaping the 'Alton 10 tan', race director Philip Scrase had a lot to be thankful for. "Obviously it was an exceptionally long day but I've received a lot of positive feedback and we could not have done it without the time, effort and support of a large number of groups, companies and individuals," he said.
"Huge thanks go to the Bentley Scouts, The Boys' Brigade, Alton School Cadets, Alton Lions and so many others who helped out on the course as well as individual club members and supporters.
"The beautiful medals were designed by club member Emily Parker and made possible by kind sponsorship by Downie & Gadban solicitors.
"Lastly, it is impossible to leave without passing on the heartfelt thanks of all the runners and volunteers to Alton's Rock Choir, who entertained us in the full sunshine for hours and made a great day even better."
Comments
To leave a comment you need to create an account. |
All comments 0